signed
pencil, wash, gouache and collage
15 x 18 1/2 inches
38.1 x 47 cm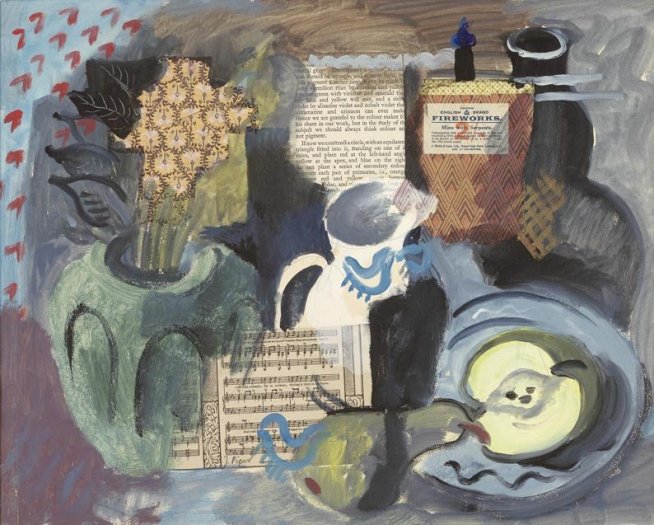 Provenance
R. A. McAlpine
Private Collection, UK
Exhibitions
London, Leicester Galleries, 19th and 20th Century Artists, New Year Exhibition, 3-28 January 1967, cat no.36
Description
In Still Life c.1933, Piper combines painting with found materials from a fireworks box, printed drawer liners, sheet music and a page from an art journal on colour theory. The painted marks have the same lightness of touch and decorative quality you might see in a Bloomsbury painting, while the interlocking and overlapping forms relate closely to Ben Nicholson's still life paintings from the same date.


Having been introduced to the work of Braque by H.S. Ede, Piper became a frequenter of the Zwemmer bookshop on Charing Cross Road in order to learn more about Matisse, Picasso and Braque. In the late 1920s there were not yet any monographs of Picasso, so Piper assembled his own scrapbooks of images from magazines, which he combined with his own drawings and elements of collage. Later, he made a special trip to Paris in 1935 to see first-hand an exhibition of Picasso's papiers colleés at the Galerie Pierre in the rue du Seine. These three French artists had had a profound influence on many British artists of the period, including Ivon Hitchens and Ben Nicholson. In 1933 Piper was still mostly earning his living from art criticism and at the beginning of the year he had written three articles for The Listener two entitled Younger English Painters and the third Contemporary English Drawing. In them, he suggested that the French emphasis on structure in art could also be found in the best contemporary English painting, citing as an example Ben Nicholson's still life painting January 27, 1933, of which he wrote:


This is a painting which is both decorative and expressive, and expressive of the artist and the age. 'Tragedy', wrote Jean Cocteau ten years ago, 'no longer consists in painting a tiger eating a horse, but in creating, between a glass and the carving of an armchair, plastic relations, capable of inspiring an emotion without the interposition of anecdote'.


Piper made several still life paintings and collages in 1933, but he made very few after this time. The Lefevre Gallery put on an exhibition of these works in the same year - no catalogue exists of the collages included in the show, but Piper later told David Fraser-Jenkins that this amounted to his first solo exhibition. This distinctive group of collages was made just prior to Piper's move into pure abstraction in 1934 - a year in which he joined the Seven and Five Society and began to establish a reputation as a significant abstract artist.