Curved forms - white and brown (Mycenae)
,
1955
signed and dated 3/55; signed, titled, dated and inscribed verso
oil and pencil on board
17 x 15 inches
43.2 x 38.1 cm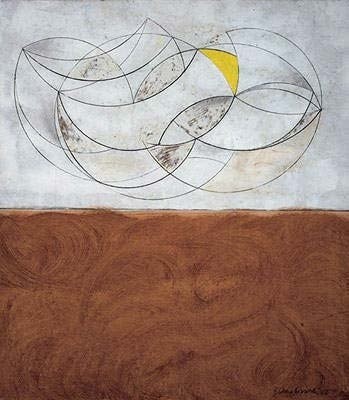 Provenance
Mr and Mrs F E Halliday
Private Collection, UK
Literature
Alan Bowness, Barbara Hepworth - Drawings from a Sculptor's Landscape, Cory Adams & MacKay, 1966, cat no.37, illus b/w
Description
Until the move to Cornwall in 1939, sculpture had always been Hepworth's prime concern. However, the combination of a young family, the lack of a proper studio (the Nicholson-Hepworth family were sharing Adrian Stokes' house, Little Parc Owles in Carbis Bay) and the difficulty of obtaining suitable materials meant that the artist began to draw more and more, often using relatively small-scale gessoed boards as a support.
Initially, the subjects were figurative, studies of the nude or the well-known series depicting surgeons in theatre. However, the freedom of the medium became an investigative tool for her sculpture, exploring forms and dynamics. In 1954, Hepworth made a trip to Greece, visiting numerous ancient sites and finding enormous inspiration in the landscape, both natural and man-made. The resultant works, both sculpted and drawn, are clear echoes of this trip, not only in the titles, which, as here, often pinpoint a particular location, but also in the forms used. The interleaving c-shaped forms, which are the basic language of this piece, derive their inspiration from the dramatically placed hill-side amphitheatre of Mycenae.