Small Female Figure
,
1979
impressed with the Artist's monogram, dated 1979 and numbered 7/9
bronze
7 5/8 x 3 1/8 x 1 3/4 inches
19.4 x 7.9 x 4.4 cm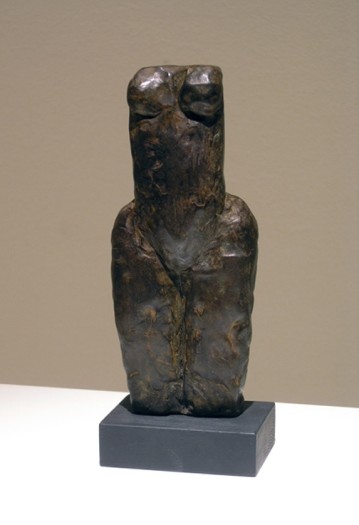 Provenance
Estate of the Artist
Exhibitions
London, Waddington Galleries, William Turnbull, 1981, cat no.7, illus b/w
Literature
Amanda A. Davidson, The Sculpture of William Turnbull, The Henry Moore Foundation in association with Lund Humphries, Aldershot, 2005, cat no.191, p.149, illus b/w
Description
William Turnbull was awarded a major retrospective at the Tate Gallery in 1973. For the artist it marked something of an end-point, provoking a crisis in direction. This was an entirely understandable reaction to both the preparation required for the show and the inevitable critical interest which accompanied it, especially as Turnbull was only 51 years old. His solution was to begin to work figuratively again, modelling with air-drying clay on a very small scale. Amanda Davidson describes Turnbull making hundreds of little figures, some resembling 'fertility figurines', others like 'pre-historic tools', 1

'I felt up to here with my own sculpture and had a tremendous drive to start at the beginning again instead of adding on and developing pieces. So I changed the scale completely and started doing very small things. I was trying to do things as if I wasn't thinking. Of course it's a total illusion - you find it all comes out like you in the end' 2

It was a return to his beginnings and a major stylistic break with the large-scale, minimalist sculptures which had preoccupied him in the 1960s. It was not until 1979, that Turnbull began to cast some of his clay experiments in bronze and then in only relatively small numbers. In the catalogue raisonné we see illustrated, side by side, the ten little bronzes Turnbull elected to cast in 1979. It's a fascinating cross-section of motifs, which pre-figure many of the forms which would preoccupy the rest of his career - the paddle shape, flattened torso and arrowhead are all present, emerging as if at once from what was in fact an extended period of experimentation. In fact Turnbull had first 'found' a number of these forms in the mid-1950s, so this series might more accurately be considered a definitive restatement of his core forms.

Turnbull's rather rudimentary modelling of this female torso has a charming lightness and immediacy to it and her exaggerated proportions lend a real potency to the figure. The small-scale of the piece and her features - high, pert breasts, protruding bottom and wide-set thighs - recall forms seen in West African totems, from the Dogon region for example. Her body-shape may also have a relationship to Early Cycladic carvings, in which the arms are typically shown held tight across the body, making the torso narrower than the hips below. But equally there is a modern almost Rodinesque character present too, in the looseness of the finished surface.

Turnbull's radical reduction to an essential, expressive form became the template for all of his later sculptures. Some of the specific stylisations of Small Female Figure, are explored further in a variety of later figures, which share a similar frontality (Female Figure, 1988, cat no.263), an exaggerated emphasis on the hips (Female, 1990, cat no.265) and flat elongated torsos (Female Figure, 1989, cat no.266).

1 Amanda Davidson p 62
2 Conversation with Clare Lilley, February, 2005, for the Yorkshire Sculpture Park exhibition guide.