gouache on paper
9 x 11.2 inches
22.9 x 28.6 cm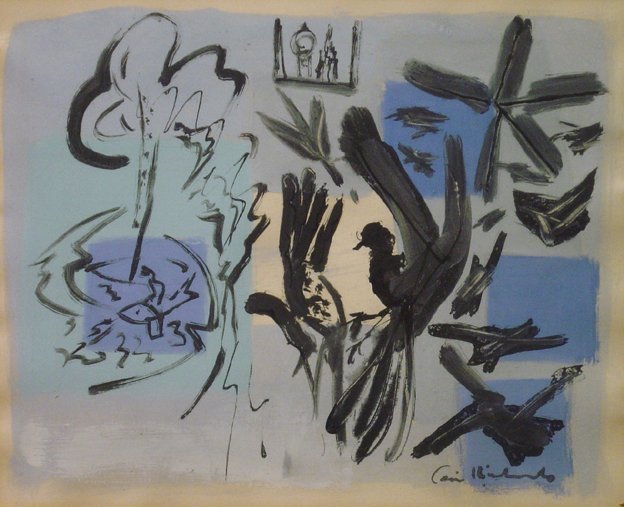 Description
Richards made a number of sketches and small paintings in Trafalgar Square in 1951, in preparation for his contribution to '60 Paintings for '51' the Arts Council's exhibition for the Festival of Britain, which required artists to produce large works of not less than 45 by 60 inches. These studies developed into a number of large canvases, and also a series of lithographs. This particular gouache uses the same all-over blues of his large oil painting, Trafalgar Square II, which was submitted for the festival and is now in the collection of the Tate Gallery.
Richards loved the energy of London, and saw Trafalgar Square as being at the very heart of city life. An appropriately large and engaging subject for his comission, Richards visited many times from his home in Wandsworth, sketching and photographing his daughters who appear in several of the pictures. Richards was particularly influenced by the approach of the French artists as described in Charles E Gauss's book 'The Aesthetic Theories of French Artists', which he had purchased the previous year. His use of all-over colour, and the expressive arrangement of elements which create an overall design clearly owe a debt to Matisse.
In these preliminary drawings, Richards selected the distinctive and characterful elements of Trafalgar Square, in this case the pigeons and fountains, to create a spontaneous rhythmic whole.