signed
pastel and charcoal on paper
12 7/8 x 22 1/4 inches
32.7 x 56.5 cm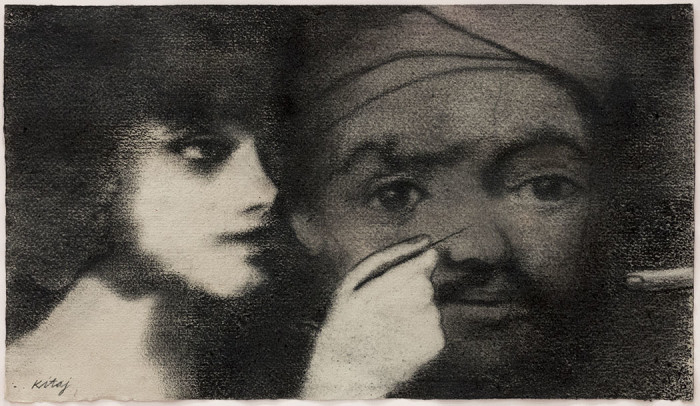 Provenance
The Artist
Private Collection
Exhibitions
R.B. Kitaj, FIAC 78, Grand Palais, Paris, France, October 20 – October
29, 1978
R.B. Kitaj: The Exile at Home, Marlborough Contemporary, New York, NY,
March 4 – April 8, 2017
Literature
Marco Livingstone, R.B. Kitaj, New York: Phaidon Press, 1985, cat no.
216, p213, not illustrated
Marco Livingstone, R.B. Kitaj: A Secret Life, New York: Phaidon Press,
2010, cat no.223, p269, not illustrated
Description
This drawing was most likely made while Kitaj was holidaying in Sant Feliu, Catalonia, Spain in the summer of 1978. An unrivalled draftsman, Kitaj spent the majority of 1978 to 1979 focused on drawing from the human figure, working mostly in pastel. It is not clear exactly who the female figure is in this work, most likely she is an invention from memory, a typically dark-haired model/muse. The male figure however is taken directly from Rembrandt's Self Portrait as the Apostle Paul, 1661, the only one of his (ninety or so) self-portraits in which the artist appears in the guise of a biblical figure - the manuscript and the sword projecting from his cloak being traditional signifiers of St Paul. Like other apostles Rembrandt painted in the same period, Paul is presented as a real, everyday person and by using his own likeness the artist encourages a direct connection with the saint.

The title Catalan Cap is a reference to the distinctive red hat with black headband worn in this region, and no doubt seen during the family's holiday, which is mirrored in the close-fitting hat Rembrandt wears in his self-portrait as St Paul.

The notion of self-portraiture is key to Kitaj's oeuvre. Kitaj appears in his own paintings in multiple guises, often in the presence of a female figure, and as such Rembrandt was a significant reference point. The fact that in this particular portrait Rembrandt is presenting himself as another historical figure, was no doubt particularly attractive to Kitaj. If Rembrandt is understood to stand in for 'the artist', and by extention for Kitaj himself, then multiple layers of meaning, regarding representation and identity, begin to emerge – as one artist takes on the cloak of another.

The presence of the artist is further suggested by the action of the model who - in a reversal of gaze - is pointing both to Rembrandt, and perhaps to the figure of Kitaj, represented by a finger coming in from the right.

These ideas are explored in other paintings and drawings from the late 1970s, which include portraits of his direct artistic contemporaries - From London (James Joll and John Golding), 1975-77, The Neo Cubist, 1976-1987 (of David Hockney), Two London Painters, Frank Auerbach and Sandra Fisher, 1979 (Auerbach with Kitaj's future wife) - and further references to the Old Masters - After Rodin, 1980 and Degas on his Death Bed, 1980.