1920-1929
More Categories
Christopher Wood
Anemones in a Decorated Jug
,
1925
oil on board
13 1/4 x 10 1/2 inches
33.6 x 26.6 cm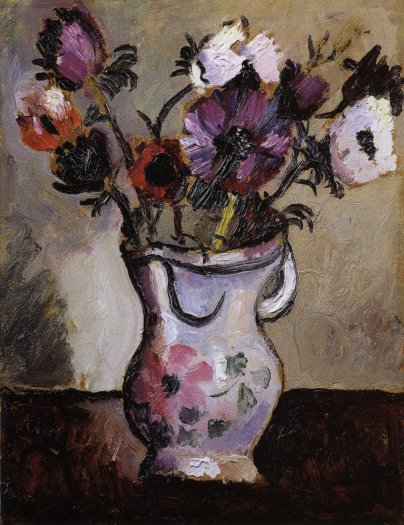 Provenance
Redfern Gallery, London
Michael Bestall Esq.
Exhibitions
Alex Reid & Lefevre, London, April 1932
Redfern Gallery, London, Christopher Wood: Exhibition of Complete Works, March 3rd - April 2nd, 1938,
cat no.92
Literature
Eric Newton, Christopher Wood, Redfern Gallery, London, 1938, p.66, no.92
Description
1925 represented something of a turning point in Wood's career; having only started to paint in oils two or so years before, he had been on an intense learning curve in French contemporary art, living, for the most part in Paris and studying in this same year at Andre Lhote's studio. Now finally he was also being accepted, by Jean Cocteau and others, as an immensely gifted young painter in his own right. This study, with its vigorous handling and quite dark tonality, shows him still in the process of absorbing influences from recent French art, in this particular case it would seem, from the Fauvist painter Maurice Vlaminck though adding to it his own highly characteristic sense of wit and innocent exuberance.