1940-1949
More Categories
Derek Hill
St.Margarets Bay from the terrace of Noel Coward's house
,
c1945
oil on paper laid on canvas
39 1/2 x 20 1/4 inches
100.6 x 51.6 cm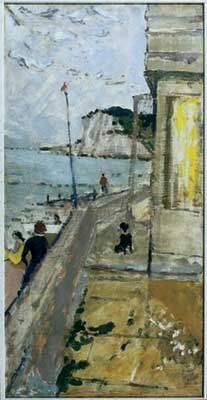 Provenance
Sir Noel Coward
Description
Best known today perhaps for the landscape paintings he produced later in life, on the remote Tory Island off the coast of Donegal (and for the school of local painters like James Dixon he encouraged there), Derek Hill's precocious career in fact dates back to the early 1930s. Then, leaving school with his parent's permission aged only sixteen to follow an artistic career, he took off first for Munich, where he learnt stage design along distinctly avant-garde lines, Kurt Schwitters being one of his tutors. An extraordinarily intense period of peripatetic travel and study then followed via Vienna, the Soviet Union and the Far East before he finally returned to England in 1937. Always a highly sociable figure he now quickly became a darling of London's 'haut boheme' of the time, and designed a ballet set for Frederick Ashton. It was probably at this time that Hill first met Noel Coward, though this painting would have to date from the immediate post-war period when, in 1945, Coward purchased and restored White Cliffs at St Margaret's Bay. Derek Hill is recorded (in Cole Lesley's biography of Coward p.271) as having visited the house at this time and encouraged Coward's new-found enthusiasm for oil painting with some useful technical advice.