signed, dated and numbered edition 29/72, printed by Kelpra Studio
colour screenprint
22 7/8 x 30 1/4 inches
58.1 x 76.8 cm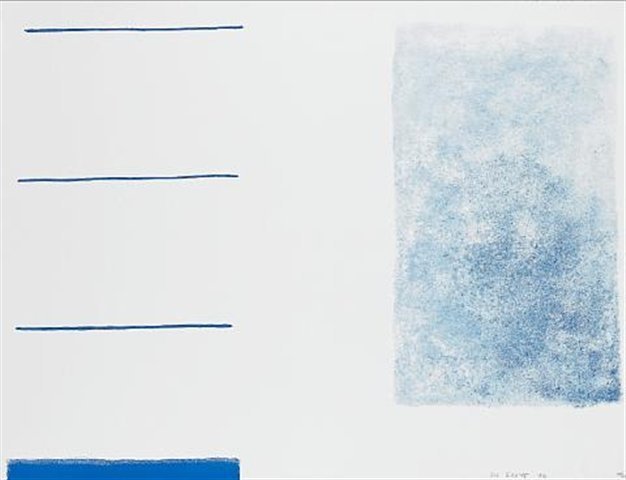 Exhibitions
London, Archeus Ltd, William Scott, A Survey of his Original Prints, 2-26 February, 2005, cat no. 45, illus colour, p.34 (another edition)
Description
William Scott first learnt the art of printmaking during the First World War whilst serving with the Royal Engineers, but it was not until the early 1950s that his printmaking became a significant addition to his painted work. By the early 1970s Scott had begun to a work in a relatively minimal style, entering what Norbert Lynton classified as a 'neoclassical phase', producing works which by with-holding all suggestion imply all through absence and a sense of 'purity.'

This print is one of a series of sixteen screen prints (each produced in an edition of 72) titled A Poem for Alexander and published by Leslie Waddington Prints Ltd in 1972. The series reflects Scott's artistic response to Euclid's ten universal, mathematical "truths." Throughout the series, these mathematical rules appear as artistic motifs, transformed by Scott's freehand and unique interpretation of form.

Brian Balfour-Oatts recognises,

'Scott's quasi-interpretational "lines with breadth", parallel lines and equal angels become lost in an enjoyable sea of colour and innocent exploration of form…The message seems to be that education is useful, but adaptation and change are equally important "truths" to be learnt.' Scott also produced a screen printed poem to accompany this series.