oil on canvas
39 x 49 inches
101.4 x 126.8 cm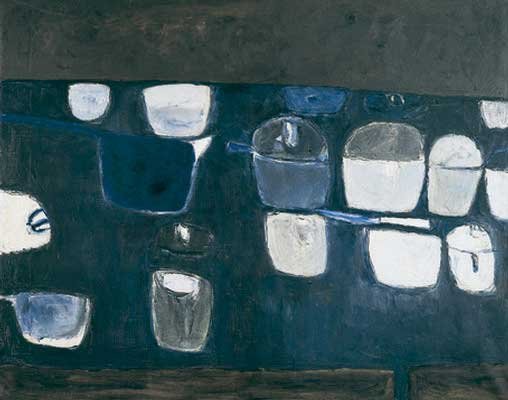 Provenance
Martha Jackson
Private collection, USA
Exhibitions
Tate Gallery, London, William Scott: Paintings Drawings and Gouaches, 19th April-29th May 1972, cat no.55
Literature
Robert Melville, Motif 8, Shenval Press, London, Winter 1961, illustrated p40
Alan Bowness, William Scott: Paintings, Lund Humphries, 1964, cat no.83, plate 83
Alan Bowness, William Scott: Paintings Drawings and Gouaches, Tate Gallery, London, 1972, cat no.55, p.50 illustrated
Description
Scott's magisterial still life paintings of the 1956-58 period marked a broad return to the subject matter of his early career, with the simple forms of pots and pans acting as the elements which make up these deceptively complex images.
Having visited New York in 1953 and being there exposed to the latest work of the Abstract Expressionists (Scott was one of the first British painters to see this work at first hand), Scott appears to have gone through a period of reassessment which began to move him back towards a manner which combined the austerity of his earlier still life work with a richness and variety of handling which enlivens the paint surface. Similarly, the freedom of handling is mirrored in the virtuoso placement of the still life elements, now becoming more and more simplified and flattened and less and less the dignified and honest implements of the earlier paintings. Equally, as the forms become less recognisable, their colours change, sometimes to hot and fiery reds and oranges, at others, as here, to deep and luscious velvety blues and browns.
The present work demonstrates the intricacy of these still life works to the full. The featureless and flattened table top acts as a stage on which the pots and pans move in rows, carefully placed to appear cheerfully haphazard. In the midst of these objects lies a kitchen knife, its simple linearity contrasting so strongly with the volume of the pots around it. The use of a knife to draw together a still life composition was not an entirely new one for the artist, appearing perhaps most memorably in his 1956 painting Winter Still Life (coll. Tate Gallery), but the dramatic placement of the knife draws the eye of the viewer to the narrow pathways between the lusciously painted objects.