oil on canvas
21 1/2 x 39 1/2 inches
54.6 x 100.3 cm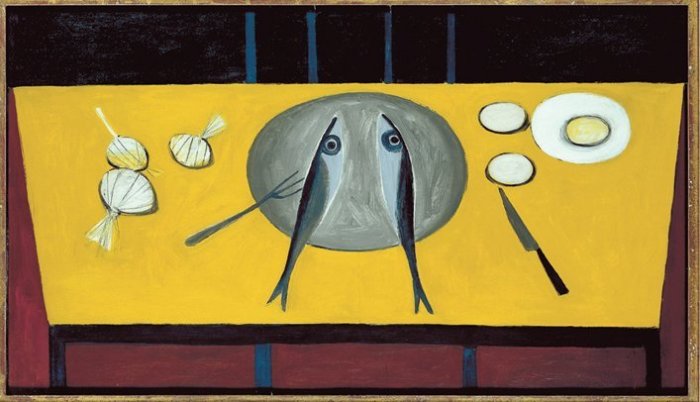 Provenance
Hanover Gallery
Howard Bliss
Waddington and Tooth
Waddington Galleries, where acquired by the previous owner
Exhibitions
London, Hanover Gallery,
Yorkshire, Wakefield City Art Gallery, 1956
Description
The type of French painting which especially attracted him, with which he felt the closest affinity, was the still life tradition of Chardin, Cezanne and Braque. Though he still painted figures from time to time, he concentrated now on still life arrangements of pots and saucepans, eggs, fishes and bottles on a bare kitchen table. This choice of subject matter was conditioned to some extent by his early environment, by memories of his childhood, but there was no kind of social comment intended; indeed the effect was usually very elegant. That Scott chose kitchen utensils as the theme for so many of his pictures was not due to any special liking for these objects, but precisely because he found them completely uninteresting in themselves. They were merely the elements for making his pictures, providing a contrast of forms without any distracting associations. What really concerned him was the relationship of a few simple shapes, their arrangement and spacing, against the plastic emptiness of the backgrounds. (R.Alley, Wiliam Scott, Dublin 1986, p.15)
As the quote above makes clear, Scott's still life work of the later 1940's and early 1950's brought together a number of strands in a series of paintings which, fifty years after their execution, still appear fresh.
'Fish' is just such a work. Contrasting an austerity of image with a sensuous richness of application, this painting is a superb example of the way in which the artist had distilled his interests into works which have a poetry and simplicity unlike anything else in British art of their time. No attempt is made to disguise the almost notational construction of a table in a space, tilting the flat plane towards the viewer in a way that has a parallel in the contemporary paintings of Ben Nicholson. However, Scott uses this as a platform for the arrangement of the simplest objects, two fish, eggs, cutlery and garlic bulbs, each painted with a direct and almost tangible appeal.
It is this purity which is the key to the success of these paintings and allows them to continue to speak so powerfully to us now.