signed, titled and dated 22.6.84

charcoal and pastel on paper
22 3/4 x 15 inches
57.8 x 38.1 cm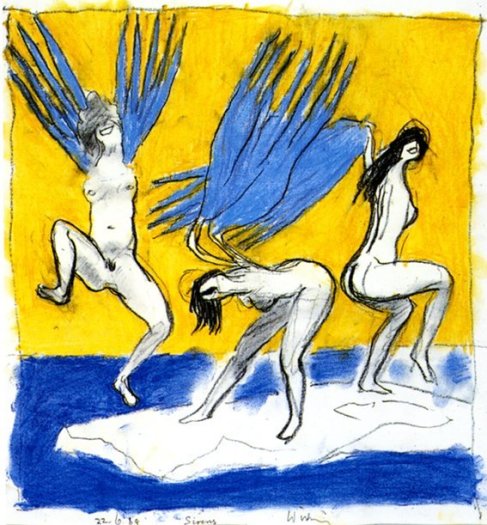 Provenance
Private Collection, UK

Literature
Fiona Bradley (ed.), Victor Willing, August Media Ltd, 2000, illus colour p104

Description
Willing's drawing Sirens, 1984, is one of a group from the period depicting strong and aggressive female figures such as Callot: Harridan, 1983 and Nymph, 1984. These mythological sirens are empowered and animalistic, shown dancing in joyous abandon. The artist pays homage to two masters of the female nude - his sirens share the physicality of Picasso's Women Running on the Beach, 1922 and are drawn with the fluid sensuality of Matisse's charcoal nudes.
The arrangement of figures on an island is a compositional motif which recurs throughout Willing's career from his early paintings of still lifes and nudes in the studio, such as Standing Nude, c.1952-3, right through to his late major oils Place with a Red Thing, 1980, both in the Tate Collection. The 'islands' or 'stages' in question are sometimes a sheet of paper or carpet placed on the floor at other times a tabletop or a puddle of deep shadow. Just as Francis Bacon placed his subjects in frames, Willing employed this device to isolate his subjects within the picture and thus intensify their psychological state.
Willing's wife, the artist Paula Rego, describes her husband's attitude to drawing:
"..He couldn't just throw out drawings and hope for the best - he was a complete perfectionist. He didn't draw speculatively, and didn't really have a sketchbook. All I have is one sketchbook of erotic drawings. He drew when he already had a picture in his mind..If there was nothing in his head, he didn't paint. He would dig potatoes in the garden, sleep and talk".
Willing's late work shows a strong and distinctive figuration and it is no surprise that these works came out so fully formed and with such purpose. By the late 1970s and early 1980s he had developed a coherent visual language all his own - objects are piled and propped together, against vividly coloured grounds, suggestive of bodies and perillous dramas to which we are only partly privy. His work can be compared to his American contemporary Philip Guston who abandoned formalist abstraction in favour of a more narrative and personal painterly language.