Still life with Bottle
,
c
oil on canvas
27 3/4 x 35 3/4 inches
70.4 x 90.5 cm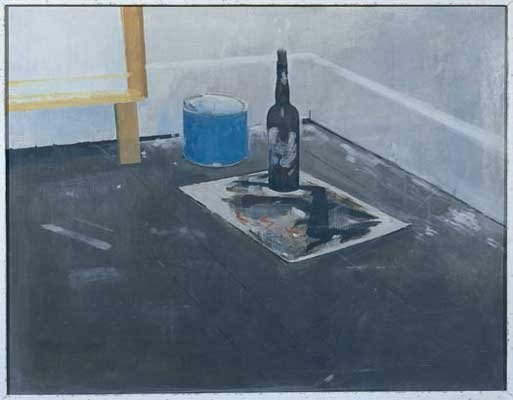 Provenance
Private collection, UK

Description
'He was very good at creating real spaces in the pictures, making structures and enclosures, often just painting in the corner of a room, as here. And then he knew exactly how to place the objects in this space'. Writing in a recently published volume on Victor Willing's life and work, his widow Paula Rego's description of its essential qualities as a remarkable resonance even for a painting from so very early in the artist's career as this. Painted around the time Willing was just finishing at the Slade, Still life with Bottle is a rare survival from a period when lack of funds forced him to paint over many of his works. Though its technique and subject matter reflects much of the Slade's traditional preoccupation with a closely observed and constructed reality, there is already apparent here a concern not simply for the precise positioning of objects, in relation to one another and to the floor, corner skirting and wall but also with conveying an intensely personal and dramatic intention on the artist's part, one that you sense he is trying to figure out as he works. Reverie and dreams were always a very significant part of Willing's artistic process; he talked about his paintings as being 'scenarios in which something has happened or is about to happen but is not happening at the time depicted. So they have this mood which people recognise because the people will have fallen into a similar state of expectation or remembrance when they look at the paintings'.