Opus 87
white serravezza marble
height 10 inches
height 25.4 cm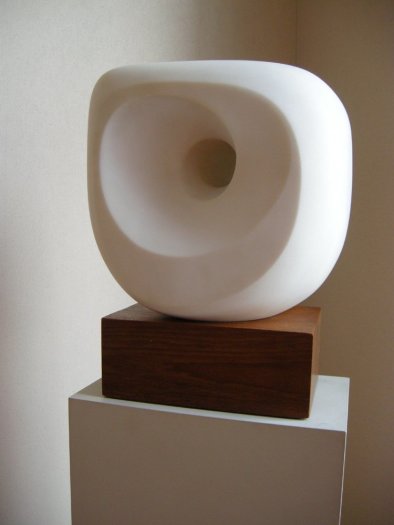 Provenance
The Artist
Charles Lienhard, acquired in 1961
Roy and Frances Friedman, Chicago
Christie's New York, 8 November 1995, lot no.309
Private Collection, USA
Exhibitions
Zurich, Galerie Charles Lienhard, Barbara Hepworth, October 1960, cat no.24, illus b/w
Literature
J. P. Hodin, Alan Bowness (Catalogue of works), Barbara Hepworth, Lund Humphries, London, 1961, cat no.261
Description
Head (Mykonos), 1959-60 is carved in white marble and demonstrates Hepworth's clear mastery of this medium. In 1964, she wrote to Norman Reid, 'I am one of the few people in the world who know how to speak through marble' She had learnt to carve from a marmista (master-carver), Giovanni Ardini, as a student in Rome and remained fascinated by this classical material throughout her career, working outdoors at her studio in St Ives, Cornwall. One of the earliest examples of Hepworth's work in marble, Doves Group, dates from as early as 1927 and other notable work in serravezza marble includes Three Forms, 1935 in the Tate Gallery, London.

Hepworth was particularly drawn to certain qualities of marble and told the critic Josef P. Hodin, 'I love marble specially because of its radiance in the light, its hardness, precision and response to the sun ... Marble is indeed a noble material, it has a most exceptional sensitivity and delicacy as well as a tremendous strength.' (quoted in J.P. Hodin, 'Barbara Hepworth and the Mediterranean Spirit,' in Marmo Rivista Internazionale d'Arte e Architettura, no. 3, December 1964, pp. 59 and 62).

The smoothness of the surface of Head (Mykonos), 1959-60 accentuates the white purity of this particular marble and connects Hepworth's sculptures to the work of her second husband, Ben Nicholson, in particular his painted white reliefs of the 1930s.

Hepworth first employed Greek titles in the 1940s, due to her love of Greek mythology, art and culture, but she had not yet been to the country. In 1953 however, after the death of her son Paul Skeaping in a flying accident, her friend Margaret Gardiner suggested a trip to Greece. Hepworth travelled to several places on the mainland including Athens and Delphi, and a number of the Aegean islands, including Crete, Patmos, Santorini and Mykonos. This experience would have a profound impact on her work and is recalled in Sally Festing's monograph, Barbara Hepworth, A Life of Forms,

'…for two weeks Barbara submitted herself to a place which no enumeration of their physical characteristics can completely describe. In and out of museums and ancient sites. Visiting springs, being subjected to earthquakes and volcanic fumes: all these things recorded in words and drawings. Up to a point, a traveller discovers what he seeks. Beyond the schoolish exuberance, one senses someone seeking to submerge her grief. Climbing Mount Kythes at Delos, a ferocious wind tore at her hair and clothes, hurling her to the ground. Scrambling up, she persevered. Sketchbook in hand, she ran up hills like a hare, to receive the full impact of solitude. First to the top, she mused upon the 199 trundling behind. Her recollections have an ambiguous undercurrent. It was hard for Barbara Hepworth to forget her leading position in the arts. In a sense, only Moore was left on Mount Olympus. And a state of illuminated innocence that went with the realization that her powers transcended her, filling her with awe and wonder. Once again, fleetingly, the distinctions between subject and object were merged, the barriers of selfhood broken down. In a world of pure existence, there was no past or future, no end, no limit, no separation or parting, no death as it is usually conceived. It was when she turned landscape into sculpture that the strange cerebral alchemy of what she saw and felt made her unique.'

Several of the sculptures that follow this such as Corinthos, 1954-5, (Tate Gallery) and the present work are characterized by sweeping, forms, that move fluidly in organic, cylindrical movements. The romanticism and classicism associated with the Aegean islands and their history undoubtedly had an impact on Hepworth's art and in the 1960s the literal opening-up promised in Meridian, 1958-9, to looser, more agitated forms, was not pursued. Instead, Hepworth's initial statements, particularly those in stone, were largely variations on the more solid and simple forms of earlier years, subtly rounded as though the forces of nature had refined the mass of a boulder by scraping and polishing. Curvatures were gentle, explorations, those of erosion, the old monumentality being reinforced by slightly smaller openings in relatively greater masses. Head (Mykonos), 1959-60 evokes the sense of swirling waves but also recalls the rounded cliff edges of the island itself which have corroded away over time, existing now as mementos of their own unique and natural history.