Three Groups on a White and Yellow Ground
,
1949
signed and dated 'Barbara Hepworth 1949' (upper left); signed again 'Barbara Hepworth' verso
oil and pencil on masonite
18 x 22 inches
45.7 x 55.9 cm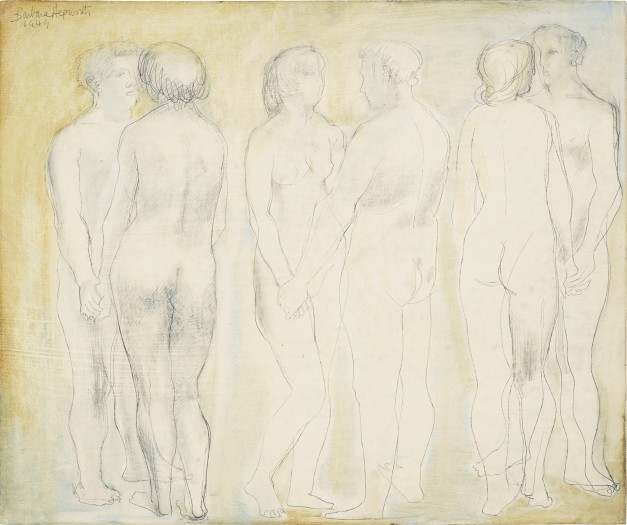 Provenance
Maurice Goldman, London
The Piccadilly Gallery, London
Cecil "Titi" Blaffer von Fürstenberg, Houston (acquired from the above, May 1985)
thence by descent

Exhibitions
London, The Lefevre Gallery (Alex. Reid & Lefevre, Ltd.), New Sculpture and Drawings by Barbara Hepworth, February 1950, cat no. 38
Venice, XXV Esposizione Biennale Internazionale d'Arte, June-October 1950, cat no. 116.
Wakefield, City Art Gallery, Barbara Hepworth: Sculpture and Drawings, May-October 1951, cat no. 88, touring to: York City Art Gallery, Manchester City Art Gallery
Paris, Artcurial Centre d'Art Plastique Contemporain, English Contrasts: Peintres et sculpteurs anglais, 1950-1960, September-November 1984, p. 40 (illustrated).
Description
'Periods and phases of drawing are most important. One needs to record, endlessly, ones observations of the human form. And of nature. It is from these sources that my forms derive. I often involve myself in periods of drawing from the life, especially when I find a model that excites me. The impulses of human life and of nature absorb me.' [1]

After the outbreak of WWII, in December 1939, Barbara Hepworth, Ben Nicholson and their triplets (born 25 August 1939) moved down to Dunlace, Carbis Bay in Cornwall where they stayed as guests in the home of Adrian Stokes and Margaret Mellis. With young children to look after, materials scarce and space lacking, Hepworth's opportunities for carving were limited and this inevitably necessitated a shift in her practice. Throughout the 1940s drawing (often on relatively small-scale gessoed boards), formed a central part of Hepworth's practice, providing her with a practical creative outlet and a useful source of income during the war years. Even as the privations of the war began to lift, the surge of Hepworth's drawing activity gained momentum. As in the sculptures she'd been making prior to her move to Cornwall, initially the subject of Hepworth's drawings were abstract and took the form of imaginative geometric forms, often incorporating colour. Hepworth continued producing drawings in this vein until 1947, at which point she returned to the subject of the human body, beginning work on two important series of figurative drawings concurrently from 1947 until 1951; her well-known 'hospital drawings' (1947-49), depicting surgeons in operating theatres and, as here, her drawings of models and dancers from life (1947-51). In a letter to Herbert Read on 6 March 1948 Hepworth wrote that although she felt no 'difference of intention or of mood' in working realistically or in the abstract, the latter 'releases one's personality and sharpens one's perceptions,' while the former – drawing from life – renews 'one's love for life, humanity and the earth.' [2]

Hepworth became fascinated with female/male dualities, placing figures in close relation to each other to form a single harmonious unit. In Three Groups on a White and Yellow Ground, 1949, Hepworth presents three side by side views of what appears to be the same two models, in a kind of dance. As opposed to the fixed, premeditated poses Hepworth asked her models to adopt for her life drawings of the 1920s, at this time Hepworth would 'usually get dancers as models and ask them to move about, to limber up, to relax and to move and move until I know them all the way round. I become the model and the drawing becomes me.' [3] In 1947, Hepworth wrote: 'With the model before one, every known factor has to be understood, filtered and selected; and then from these elements in the living object, one chooses those which seem to be structurally essential to the abstract equivalent, relevant to the composition and material in which one wishes to convey the idea.' [4]

Dancer and model Daphne Selfe, who posed for Hepworth in the early 1950s, offers a fascinating insight into the manner in which the artist worked with models in her studio at this time:

'As a model for her in the 1950s (?) when I was 20, it was a nice holiday job… I didn't know Barbara very well – she was engrossed in drawing and we did not chat much! She asked me how long I could stand for and I did the customary 45 minutes. She was very nice to work for especially as I was a dancer and she liked that (…) Yes, I did the standing poses for B.H. – but I probably did others as well – so long ago to remember!' [5]

Reminiscent of Rodin's Cambodian dancers and the 'three Graces' of Sandro Botticelli's Spring, c1480, the present work conveys a real sense of fluid movement and intimacy between the two figures. Hepworth manages to convey her experience of the model's movement over time here in a number of ways – most obviously by portraying the couple transitioning from left to right of the composition in different poses, but also through a clever use of line. The rhythm of the figure's movement is echoed in the rhythmic line of Hepworth's drawing style. Not only do the outlines of the two figures overlap in areas such as the legs and feet, but there is also a doubling of line, and a blurring of line, suggesting the trace of the figure's movement. The textured surface of the board further enhances the sense of dynamism.

Though Hepworth herself often referred to these works on board as drawings, they may more accurately be described as paintings, albeit of a unique kind. Hepworth was in the habit of preparing her boards with gesso, which she would apply using a brush and then scrape back, possibly with a razor blade, before scumbling with oil or gouache in muted colours (here, white, yellow and blue). This method, which was altogether more sculptural than painterly, created a textured, organic-feeling surface with 'a particular kind of 'bite'' [6] upon which Hepworth would draw in pencil, something she likened to 'incising on slate.' [7] and the painted surface would often be scraped or rubbed back as the drawing proceeded. Although this was an approach she shared with her then husband, the painter Ben Nicholson, the combination of oil and pencil on board was first used by Hepworth in 1929-30 in an early drawing of a female figure (perhaps drawn from life, or from a sculpture) and Hepworth may have been prompted to work in this medium having seen Henry Moore's drawings, such as Seated Female Nude, 1929.

Unlike Moore who from 1921 to the early 1950s used drawing as a means of generating ideas for sculpture, for Hepworth this was rarely the case. The forms explored in Hepworth's figure drawings from this period were never literally translated into three dimensions, but fed indirectly into, and enriched, her later sculptures. There are affinities between the spontaneous and harmonious relationships evident in the present figures and the artist's abstract marble carvings comprising multiple forms, such as Group I (Concourse) February 4 1951, 1951, which were inspired by the people she observed on the Piazza San Marco when she was in Venice in 1950 for the biennale (in which the present work featured). Hepworth's increasing concern with the relationship between two figures is also explored in Contrapuntal Forms, which she made for the South Bank site of the Festival of Britain in 1951.

Although Hepworth produced life drawings as early as the 1920s, only six have survived (four from 1928 and two from 1929) and just a handful of 1930s drawings are known and recorded. This is likely due to the fact that, unlike the artist's drawings from the 1940s and early 1950s, which are individual artworks in their own right, in this earlier period Hepworth regarded her life drawings as expendable studies. While her earlier drawings share a certain monumental quality with Picasso's nudes from the early 1920s and are characterised by gestural, explorative mark making and a strong sense of light and shade, by this later period the artist's handling of the human form is confident and refined, capturing the rhythm of the body through a more subtle and economical use of line, reminiscent of Nicholson's portraits of Hepworth such as 1932 (girl in a mirror, drawing), 1932.

A statement made by Moore later, may go some way to explain Hepworth's transition to this linear style:

'Pure outline drawing is a shorthand method of drawing, to be arrived at later in an artist's career. Matisse and Picasso often used this method, but they began their careers with this kind of highly finished three-dimensional drawing using light and shade, and then later simplified their styles. This is the real way to understand form and drawing.' [8]

Three Groups on a White and Yellow Ground has been included in a number of important exhibitions, including the 1950 Venice Biennale, in which Hepworth represented Britain alongside John Constable and Matthew Smith, contributing 22 sculptures, 11 abstract drawings, 11 surgeon drawings and 15 figure drawings. This drawing also featured in a touring exhibition of sculpture and drawings at the Wakefield City Art Gallery coinciding with the Festival of Britain in 1951 and a retrospective exhibition of the artist's work held at the Whitechapel Art Gallery in 1954. Sophie Bowness has noted that the present work relates to the group of 20 drawings that featured in the recent exhibition Barbara Hepworth: Artist in Society 1948 – 53 at the St Albans Museum and Gallery.

Importantly, a number of the artist's drawings of models and dancers from 1947-51 reside in public collections around the world, including Tate Gallery, London [9]; Edinburgh College of Art, University of Edinburgh [10]; Government Art Collection [11]; Art Gallery of Ontario, Toronto [12] and Vancounver Art Gallery, Vancouver [13].

[1] Hepworth quoted in Mervyn Levy, 'Impulse and Rhythm: The Artist at Work - 9' The Studio, London, September, 1962, Vol. 164, no.833 pp88-89

[2] Hepworth cited in Alan Wilkinson, The Drawings of Barbara Hepworth, Lund Humphries, Surrey & USA, 2015, p90

[3] Hepworth cited in Alan Wilkinson, The Drawings of Barbara Hepworth, Lund Humphries, Surrey & USA, 2015, p90

[4] Hepworth cited in Barbara Hepworth, A Retrospective Exhibition of Carvings and Drawings from 1927 to 1954 held at the Whitechapel Art Gallery, exhibition catalogue, Whitechapel Art Gallery, London, 1954, p21

[5] Daphne Selfe cited in Wilkinson, Ibid, p90

[6] Hepworth cited in Wilkinson, Ibid, p65

[7] Hepworth cited in Wilkinson, Ibid, p65

[8] Henry Moore quoted in Alan G. Wilkinson, The Drawings of Henry Moore, exhibition catalogue, the Tate Gallery, London and the Art Gallery of Toronto, Tate Gallery Publications Department, London, 1977, p13

[9] Two Figures with Folded Arms, 1947 & Seated Woman with Clasped Hands, 1949

[10] Three Groups on a Pink Ground, 1949

[11] Ballet (2), Giselle, 1950

[12] Standing Figures and Head: Caryatid, 1951

[13] Two Women in the Sun, 1949