signed and dated
oil on canvas
22 x 36 inches
55.8 x 91.4 cm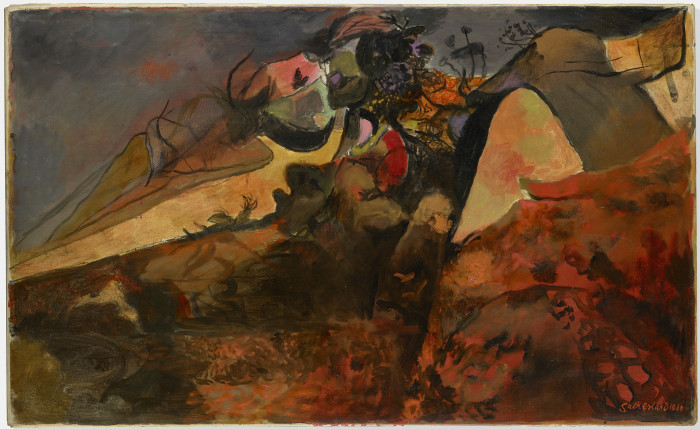 Provenance
Sir Hugh Walpole, by whom purchased at the 1940 exhibition.
with Leicester Galleries, London, 1945, where purchased by Sir Colin and Lady Anderson, and by descent.
Exhibitions
London, Leicester Galleries, Recent Paintings by Graham Sutherland, May 1940, no. 15.
London, National Gallery, British Painting since Whistler, March - August 1940, no. 169, as 'Hills'.
Norwich, Arts Council of Great Britain, British Paintings, 1946, no. 66: this exhibition travelled to Bristol, Newcastle, Leeds, Derby, Arbroath, Lincoln and Harrogate.
Sweden, British Council, English contemporary art / organized by The British Council and the Confederation of Fine Arts in collaboration, 1947-48: this exhibition toured to Stockholm, catalogue not traced.
London, Tate Gallery, Private views: works from the collections of twenty friends of the Tate Gallery, April - May 1963, no. 25.
London, Tate Gallery, Graham Sutherland, May - July 1982, no. 74: this exhibition travelled to Darmstadt, Mathildenhöhe, August - September 1982.
Literature
G. Svensson, 'Engelsk Nutidskonst', Konstrevy, Vol. 24, No. 2, 1948, p. 86, illus
R. Alley, exhibition catalogue, Graham Sutherland, London, Tate Gallery, 1982, p. 87, no. 74, illus
Description
The mid-1930s were a formative period for Graham Sutherland, in which, catalysed by a trip to Pembrokeshire in 1934, he rapidly evolved his skills as a painter and established a new method of working. Here, he became instinctively aware of the contours of the land and the complexity of organic forms. Recognising that landscape was not always 'scenic' and could be interpreted in other, more exciting, ways he set about exploring the landscape, identifying vitally expressive natural forms, which he would sketch on the spot and transplant into imaginative compositions back in his studio. Through art journals such as Cahiers d'Art and Minotaure, Sutherland became increasingly aware of the Paris-based artists Miró, Picasso and Matisse and despite his own paintings remaining rooted in nature, they included shapes which made reference to Miró.

This formative decade culminated for Sutherland in a visit to south-central Wales - Abergavenny, Brecon and the Brecon Beacons- dramatic landscapes which were to provide immensely rich subject matter. Road and Quarry is likely inspired by the Llangattock Escarpment - limestone cliffs within the Brecon Beacons which were extensively quarried in the 18th and 19th centuries, the limestone used, amongst other purposes, for iron-making, when the southern valleys were awash with pits and furnaces. The burnt umber, golden yellows, fiery reds and blazing oranges which saturate the present painting are evocative of this industrial past and prefigure works Sutherland made as an official war artist, depicting the steel works of Cardiff and tin mines of Cornwall.

Here Sutherland has captured an extraordinary quality of light, through colour. The grey sky sets a gloomy backdrop for a composition which radiates warmth and light. Hints of an orange sunset struggle with an enveloping darkness, muddied tones convey shadow, while black gives added prominence to the contours of the landscape. Writing to Kenneth Clark from Brecon on 27th December 1939, he enthused, 'I have been working every day, and have found some electrifying motifs (...) Yesterday we were spell-bound at sunset by the effect of the sun coming through holes in the clouds and making orange red patches on the blue-back mountains.' 1

The structure of the Llangattock Escarpment Sutherland encountered in 1939 was one visually shaped by its history. Characterised by excavated rocks, conical spoil heaps, and the remnants of quarry buildings, it would have appeared somewhat surreal. This is echoed in the present composition, which, with its disorderly amalgam of motifs, is imbued with a dream-like, even nightmarish, quality, reflective of the impending destruction of the Second World War.

1 Cited in Roger Berthoud, Graham Sutherland: A Biography, Faber and Faber, London, 1982, p95