edition no.33/35, from an edition of 35, plus 3 artist's proofs, produced in association with the Multiple Store
Cast acrylic

6 3/4 x 5 1/2 x 6 3/4 in
17 x 14 x 17 cm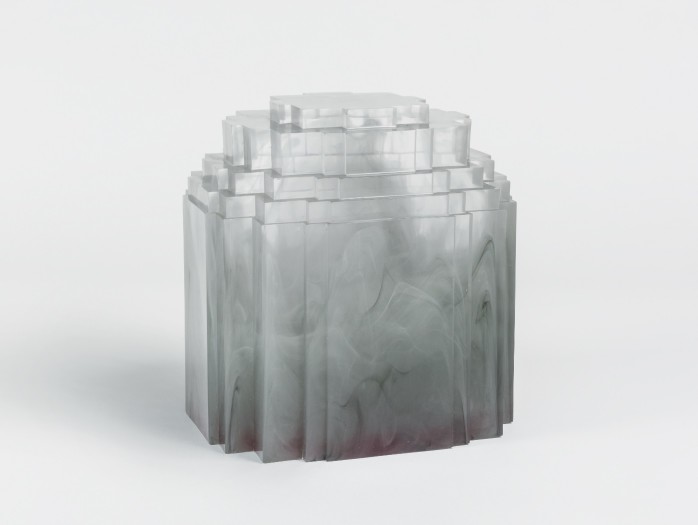 Provenance
The Artist
The Multiple Store
Karsten Schubert

Exhibitions
London, Offer Waterman in collaboration with Karsten Schubert, Alison Wilding: Acanthus, asymmetrically, 26 May - 7 July 2017, illus colour
Literature
Jo Applin and Briony Fer, Alison Wilding, Lund Humphries in association with Ridinghouse, 2018, p57 illus colour
Description
The intriguing form of this artwork is taken from archive drawings documenting the nuclear fusion experiments carried out at the University of Chicago in the early 1940s. Rather extraordinarily, the world's first nuclear reactor was set up in the racket courts under the West Stands of the University's playing fields, (Fig.1), a large space which was unheated, and therefore disused, in the winter months.

In the recent catalogue accompanying the exhibition Acanthus Asymmetrically at Offer Waterman, the writer Sarah Whitfield asks Wilding about this work:

SW: Talking about closed boxes, can you tell me about Rising, 2001? Presumably the acrylic cast is solid, but there is a very powerful illusion of a closed interior space filled with some indefinable and worryingly unstable substance.

AW: Rising is a small, solid acrylic cast – a bit like an imagined engine block in shape? It was my response to The Multiple Store's request to make an edition. At the time I was obsessed with the first nuclear fission experiments that took place in the squash courts of the University of Chicago in 1942. I sourced some of the plans and drawings of the construction of graphite rods and arrived at my own version. It resembles only itself, being a solid mass of rising cloud form. Rising is an edition, but each one is different due to the individual mix of pigment used in the pour. I'm not sure if the backstory of the work constitutes a narrative. I like to think the object speaks for itself.

The form of Rising appears as the inverse of another translucent, amber-coloured, sculpture, Arena, 2000, which Wilding made the year before (Fig.2). This image of a stepped form, either going up into the air, or conversely down into the ground, is in part informed by the artist's visits to various archaeological sites such as Bete Giyorgis, an underground church in Lalibela, Ethiopia and Xerxes' Tomb, Naqsh-e-Rustam, in Fars Province, Iran. These stepped forms recur in numerous other works see for example the Tate Gallery's Harbour, 1994/96 or Ruff, 2010.

Wilding's use of transparent forms is also an unduring theme, existing in earlier works such as Surge, 1985 (Fig.3), where it has a similar sense of menace, and later, for example, in Floodlight, another edition produced in 2001. (Fig.4). Wilding has stated 'I am drawn to the conflicting spectacle of beauty/speed/devastation in all its manifestations'. In Rising the attractiveness of Wilding's new object coexists with its portentious symbolism as the gateway to the nuclear age, presenting the viewer with an exquisite irony. Wilding has explored this territory again, more recently, in a series of sculptures and drawings based on drones and stealth bombers where, once again, formal elegance belies a deadly purpose.

An edition of Rising is in the collection of The Hepworth Wakefield.