signed and inscribed verso
carved boxwood
3 H inches
10.1 cm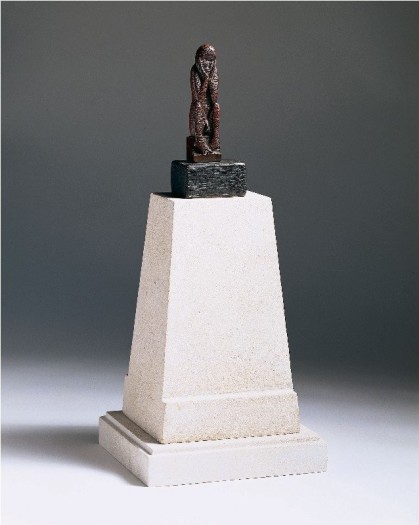 Provenance
Percy Muir
Thence by descent
Description
The present small carving is one of a group which are listed in the artist's ledgers as Job 799, 'Various carvings in Boxwood etc, for Self', and thus appear to have been produced in the 1922-23 period.
Each of these sculptures, appears to have had its origin in a group of wood engravings (in the present example it relates to the work of the same title numbered P265 in the catalogue raisonee of the artist's printed works) which were then worked up as three-dimensional pieces, almost all of which were carved in boxwood.
Although most of the sculptures in this group were given titles relating to religious subjects, including eight crucifixions, the treatment of most does not have particularly strong religious overtones.
The subject of Adam was one to which Gill was to return, in the Adam and Eve sculptures of 1927-28 (Collins cat.nos.176 & 177) and had previously treated in the Adam & Eve Relief of 1920 (Collins cat.no.95). Here, Gill had very clearly drawn a parallel between the inherently erotic nature of Hindu temple sculpture, introduced to him by William Rothenstein and Ananda Coomaraswamy, and the position of Adam & Eve as the initial procreators of mankind.