signed and dated lower right
gouache, pen, ink and pastel on paper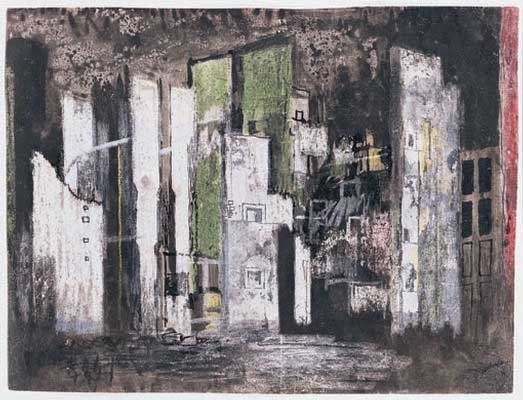 Provenance
Marlborough-Gerson Gallery, New York
Sir Phillip Hendy
Mr. and Mrs. John F. Dugdale, New York
Thence by descent
Exhibitions
Galleria Civica d'Arte Moderna, Turin, Sutherland, October-November 1965, cat no.35, p.101 illustrated
Haus der Kunst, Munich, Graham Sutherland, 1967, cat no.109, illustrated touring to:
Gemeentemuseum, The Hague
Haus am Waldsee, Berlin
Wallraf Richartz-Museum, Cologne
Description
Sutherland was an official war artist from 1940-1945 and during this period he produced work which covered a variety of themes, from blast furnaces, to the damage done by the RAF, to rail marshalling yards in France. However, it is his images of bomb devastation in the East End of London which, like those of his contemporary Henry Moore, best captured the mood of the times.
The Blitz on London began in August 1940 and continued, with a high level of intensity, for the next eight months. Lying on the approach to the capital, and home to a vast acreage of dockyards, factories and warehouses, the East End of the city was particularly badly hit, and huge areas were laid waste. Sutherland explored the damaged areas and became fascinated by the ways in which the myriad of building materials and the wares within reacted to the intense forces of fire and explosion. His paintings of the East End often acquire an almost anthropomorphic character, such as in Devastation 1941-City: Twisted Girders (coll. Ferens Art Gallery, Hull) where the broken and burnt metal rears over a broken wall like a wounded beast
Sutherland was equally occupied by the whole streets of devastated buildings which ran off into the distance. These images, like the present painting, throw up a strong sense of unreality and share with the work of fellow war artists Piper and Moore, and others susceptible to the heightened mental state of the city like John Minton, a feeling of the stage set - a backdrop to some inexplicable tragedy. Almost always devoid of human life, Sutherland used photographic images for much of his preliminary study as he found that drawing on site could whip up a sense of resentment in the people of the neighbourhood.