Mountain Road, Asturias
,
1935
oil on canvas
19 1/2 x 23 1/2 inches
49.5 x 59.7 cm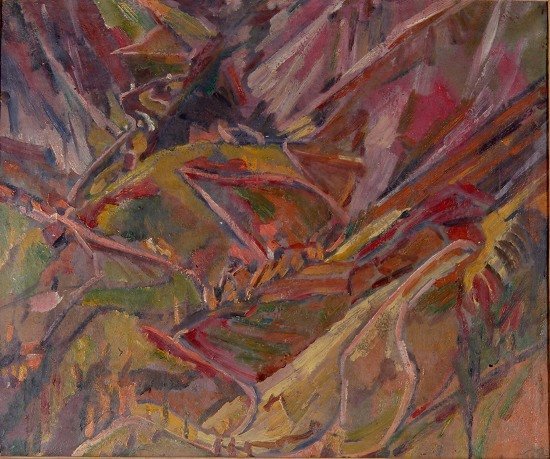 Provenance
The Artist
Mrs Bomberg, purchased directly in 1960 by
Lady Alexandra Trevor-Roper (Lady Dacre)
Agnew's, London
Private Collection, UK
Exhibitions
Coventry, Herbert Art Gallery and Museum, David Bomberg 1890 - 1957: Paintings and Drawings, 3 - 24 September 1960, cat no. 57
Description
After the First World War, David Bomberg all but abandoned the urban subject matter of his Vorticist years, adopting an approach to art based on the contemplation of nature. Landscape became the central focus of his work and, in this sense, he was distinct from many of his avant-garde contemporaries and much closer in sentiment to the English Romantic artist J.M.W. Turner.
For Bomberg, the importance of art lay in its ability to unite human experience with a metaphysical and spiritual understanding of the world. He believed the artist should work with his mind and not just his eyes and, as such, his painting is always an articulation of his experience of nature.

Bomberg travelled through Spain from 1934 until October 1935 and he would have remained there had the threat of civil war not forced a return to England. The valley of La Hermida in the mountains of Asturias was the last place that he and his family settled. This was the most isolated and austere area of Spain that Bomberg was to encounter, and the mountains, which were devoid of architecture or human activity, allowed Bomberg to become completely absorbed by the landscape.

Mountain Road, Asturias wonderfully illustrates the kind of primordial landscape which appealed to Bomberg in his search for the sublime. The canvas is coloured in vivid reds, pinks and oranges, reflecting the intense Spanish light and heat
that penetrate the land. The dramatic zig-zagging brushwork energises the canvas, drawing the eye around the composition and emphasising the natural drama of the scene. This work is charged with a deep sense of awe, its formal components forming a motif for the intense and spiritual experience of nature that Bomberg chased throughout his career.