Lisa Holding a Teacup (coin)
,
1949
signed and dated
oil and pencil on board
12 x 16 inches
30.5 x 40.6 cm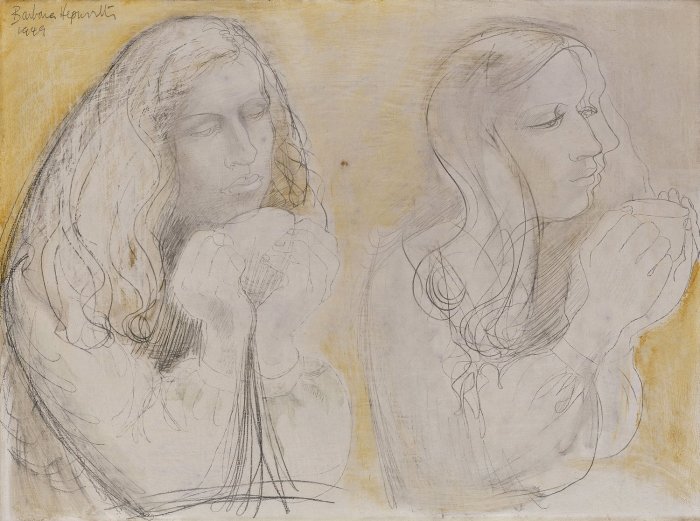 Provenance
Alex Reid & Lefevre, London
Sir Gerald Barry
Lord Strauss
Thence by descent
Offer Waterman & Co
Private Collection, UK
Exhibitions
London, Alex, Reid and Lefevre, New Sculpture and Drawings by Barbara Hepworth, February 1950, cat.no.42
Literature
Herbert Read, Barbara Hepworth, Carvings and Drawings, Lund Humphries, London, 1952, cat no.131 illus b/w
Alan Bowness, Barbara Hepworth, Drawings from a Sculptors Landscape, Cory, Adams & MacKay, London 1966, cat no.21 illus b/w
Description
This is a rare and exquisite master drawing by Hepworth from 1949. Hepworth, who strongly disliked drawing a fixed pose, requested that her sitters, in this case a local girl called Lisa, moved about naturally. By preference Hepworth preferred to draw dancers rather than artists models. In the 1930s she had, like Degas, drawn ballet dancers, but her interest was not in ballet as such but in the nature of human movement. Here movement and a sense of time passing is evident in the double line of the profile, and the appearance of the same girl twice (hence two sides of the same coin). The rhythm of the figure is expressed in the pencil line, which describes the form. More resolved than works on paper from the same period, Hepworth's drawings made on board, were prepared with grounds of scumbled oil paint in muted colours, which were then scraped or rubbed off in places as the drawings developed. Here, the pencil line is in turn strong and delicate, with areas softly shaded to bring out the forms. There is no question of a three dimensional realization of the figure, rather Hepworth is concerned with capturing a sense rhythm, which was so central to her sculpture.
A very similar drawing to this one can be found in the Arts Council Collection, titled Two Girls with Teacups, and also dated 1949, it was acquired from the Lefevre Gallery in 1950.