Leather Bag (Cowboy 1)
,
2016
edition of 25
leather and embossed leather
6 1/2 x 10 5/8 x 1 inches
16.5 x 27 x 2.5 cm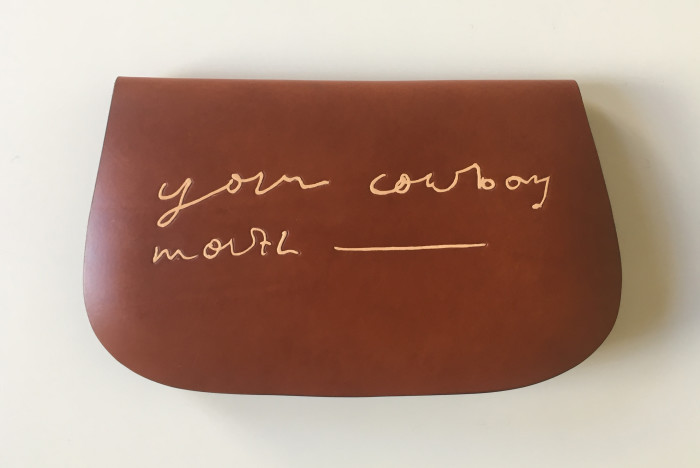 Description
Materials
Body: 100% vegetable tanned cow side made on European raw material and tanned in Italy
Lining: Pig suede
Leather on-lay decoration: Calf leather

The bags are crafted entirely by hand from the choice of skins to the cutting, stitching and decorating. The making process starts when the leather is cut in the main pieces, thinned down and edge paired to the required thickness by hand. After this stage the front of the bag will be decorated. The the Tan, Dark Brown and 'Bus Driver' bags, the decoration consists in a very thin layer of leather hand cut and shaped in the form of decoration and applied in a recessed debossed area. The decoration on the pig skin clutch is hand stitched using three colours of linen thread. All the pieces are hand stitched together using a waxed linen thread. Finally the exposed edges are finished. Edge finishing is the process of creating a sealed smooth edge along the exposed seams by completing a few fairly simple steps, consisting mainly of truing up edges, using various methods of burnishing, applying wax and buffing.