Chance Order Change 19 (4 colours) symmetry A
,
1984
signed, titled and dated on overlap
oil on canvas
36 x 36 inches
91.4 x 91.4 cm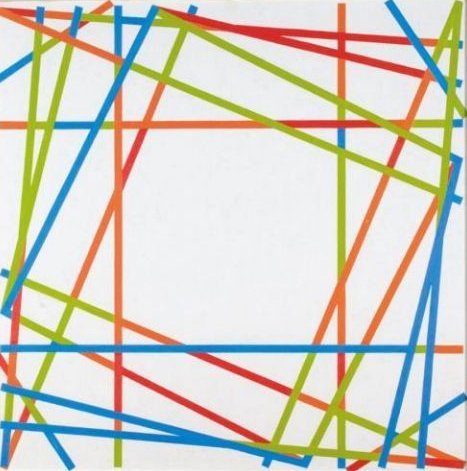 Provenance
Waddington Galleries, London
Annely Juda Fine Art, London
Private Collection, Japan
Exhibitions
London, Serpentine Gallery, Arts Council of Great Britain, Kenneth Martin: The Late Paintings, 1985, ex-catalogue
London, Annely Juda Fine Art, Kenneth and Mary Martin, 1987, cat no.85, illus colour p106
Description
Towards the end of his life Kenneth Martin embarked on a series of paintings and works on paper which he called the Chance and Order Series. In the simplest versions, a grid was set up on paper and its points of intersection numbered. Corresponding numbers were drawn 'out of a hat' ie. by chance. Each pair of numbers then became a line on the grid. Although the underlying structure remained the same the resulting correspondences produced a seemingly endless succession of combinations. With these works there was therefore a double invitation to explore the paintings and drawings as statements about an inventive process, and to contemplate the products that were generated by that process. The combination of randomness and definite rules left the artist free to invent in an exact sense. You can only develop order but not chance, you can only use the chance again.