Picnic, Ile Saint-Marguerite , Cannes, France
,
1937
19 by 15 inches / 48.3 by 38.1 cm (sheet); 7 by 7 inches / 17.8 by 17.8 cm (image)
edition 15/30, authenticated with Lee Miller Archives and 31 Studio blind stamps
platinum palladium print on Aquarel Arches Paper
printed in 2000
19 x 15 inches
48.3 x 38.1 cm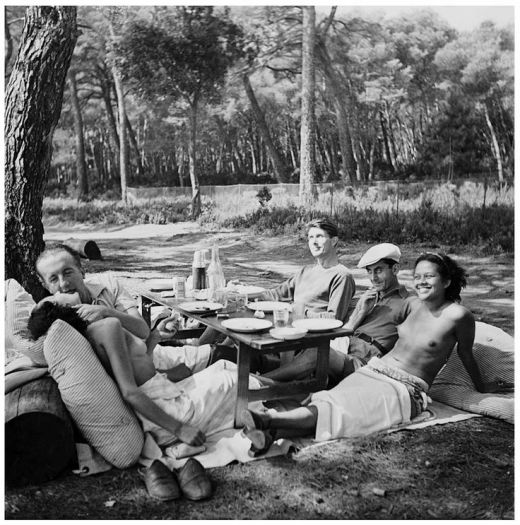 Description
This photograph was taken soon after Lee Miller first met Roland Penrose in Paris in June 1937. Despite Miller being married to the Egyptian businessman Aziz Eloui Bey, Penrose and Miller fell in love and immediately took off together, travelling first to Cornwall and then to Mougins in the South of France. Here they joined Picasso, Dora Maar, Man Ray, Ady Fidelin, Paul and Nusch Éluard, Eileen Agar and Joseph Bard for a holiday at the Hôtel Vaste Horizon.

Here we see, from left to right, Nusch and Paul Ėluard, Roland Penrose, Man Ray and his girlfriend Ady Fidelin picnicking on the Ile Sainte Marguerite. The image of two topless women, with three male artists, appears as a modern, and undeniably knowing, refashioning of Edouard Manet's most famous work Le Déjeuner sur L'Herbe, 1863. Manet's painting, scandalous in its day, challenged notions of voyeurism and decency in art by presenting a female nude alongside men in contemporary dress - an unromanticised figure, who brazenly looked out to meet the viewer's gaze. The sexual politics and art historical tropes of this painting, are here made all the more intriguing and complex, by the fact that the author of Picnic is a woman, and that, while all three women were models and muses to the men, Nusch Ėluard, like Miller, was also an artist in her own right. The presence of a topless Ady Fidelin, Guadeloupian by heritage, is also significant, as only weeks later she appeared, photographed by Man Ray, in a ground-breaking feature in Harpers Bazaar's September issue, making her the first black model to appear in a commercial fashion magazine.

Relationships within this group of friends were fluid, here Miller looks on at her new lover Penrose, and her old love Man Ray, to whom she had been girlfriend and muse in the early 1930s, before returning to New York to set up her own photography studio. The languid, sensuality of this image is reflected in other photographs from the trip, taken by both Miller and Penrose, which show the couples larking on the beach, making art, embracing and swimming in the sea. Here, Miller captures the ease and optimism amongst these new friends, an idyllic moment made all the more poignant, in the context of the nearby Spanish Civil War, which prefigured the horrors Miller would witness later as a war photographer.