Black and White Sea. Movement
,
1951
signed, dated and inscribed 'Black + White Sea/Movement/51 Terry Frost'
oil on canvas
16 x 20 inches
40.6 x 50.8 cm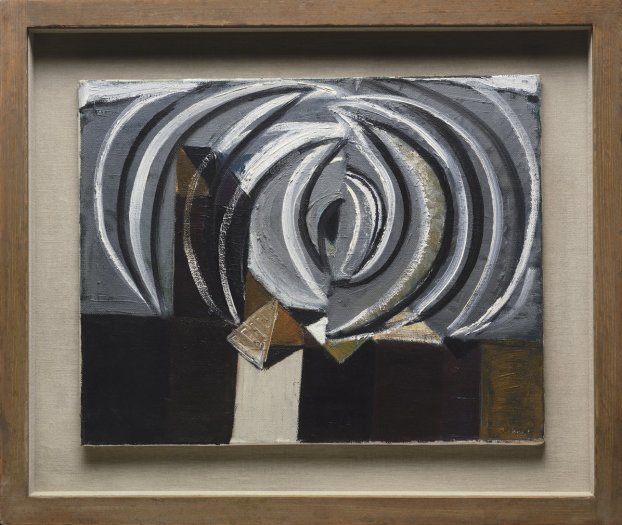 Provenance
The Artist
Peter Lanyon
Private Collection, UK
Description
Black and White Sea Movement belongs to a body of work, that marked a fundamental shift in Terry Frost's painting. In 1951, Frost did not fully embrace the gestural abstraction of his Cornish contemporaries and he tended to utilise a strong balance of geometrical divisions. In fact, Frost's work was at the very centre of artistic debate between the experience-influenced abstract paintings of the St Ives artists and the rigorously constructivist work of the members of the Fitzroy group.

By 1951, Frost had already begun painting his Walk Along the Quay series. In these works and the Movement series, Frost refrained from simply imitating nature – he wanted to physically experience St Ives. Every day at first light and in the evening he would investigate around the harbour. He would observe the
movements and the sensations of the sea, the stirring sea breeze, the hulls of the boats and the ropes, which held them tight and loose.

Frost's paintings use extremely sophisticated geometrical relationships to suggest familiar forms and show his close links with Adrian Heath, Victor Pasmore and the Constructivist circle who were developing a much more abstract and geometric structure in their paintings.

Peter Lanyon exchanged this painting with Frost for a drawing he had made of Mullion Harbour in circa 1952. Black and White Sea Movement is a very rare example of Frost's early fifties painting. During the years 1950–1952, Frost was an
assistant to Barbara Hepworth and did not paint very often.