Sculpture after 1945
More Categories
Henry Moore
Working Model for Reclining Figure: Festival
,
1950
stamped "Moore" on base; cast in an unnumbered edition of 7 plus 1 artist's cast
bronze
8 x 17 3/4 x 5 1/2 inches
20.3 x 45.1 x 14 cm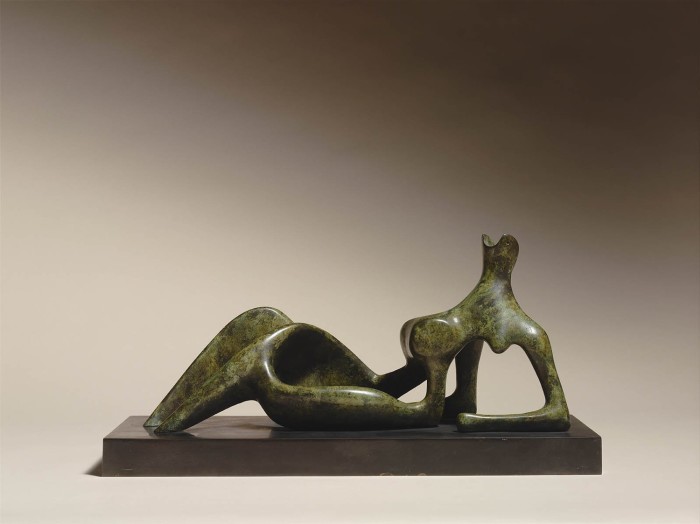 Provenance
Private Collection, Japan
Fuji TV Gallery, Tokyo
Fukuoka City Bank, Fukuoka, Japan, acquired February 1975
Private Collection, UK
Literature
Ionel Jianou, Henry Moore, Arted, Editions d'Art, Paris, 1968, cat no.275, p76, illus b/w pl.87
Robert Melville, Henry Moore: Sculpture and Drawings 1921–1969, Thames and Hudson, London, 1970, cat no.417, illus b/w
Herbert Read, Alan Bowness, Henry Moore Volume 2: Complete Sculpture 1949–54, Lund Humphries, London, 1986, cat no.292,
illus b/w p33 and plates 44 & 45
David Mitchinson, Celebrating Moore: Works from the Collection of The Henry Moore Foundation, Lund Humphries, London, 1998,
cat no.160, pp227–228, illus colour pp227–8
Note
This sculpture was the working model for the 71/2 ft long Reclining Figure: Festival, commissioned by the Arts Council for the Festival
of Britain's South Bank Exhibition in 1951. Another cast from this edition is in the collection of The Henry Moore Foundation.
Description
Kenneth Clark has described Henry Moore as 'the master of the reclining figure' (1) and this is a fitting statement for an artist who used the motif continuously throughout his career as a means by which to explore the ways in which one can construct lasting images of the human figure. As Moore explained in 1984, 'There are three fundamental poses of the human figure. One is standing, the other is seated, and the third is lying down.... But of the three poses, the reclining figure gives the most freedom, compositionally and spatially. The seated figure has to have something to sit on. You can't free it from its pedestal. A reclining figure can recline on any surface. It is free and stable at the same time. It fits in with my belief that sculpture should be permanent, should last for eternity. Also, it has repose. And it suits me ─ if you know what I mean.' (2) Small Maquette No.1 For Reclining Figure, 1950 is one of an important group of preparatory works by Moore which relate directly to his monumental Reclining Figure: Festival, 1951(Fig.1 LH293), a 7 ½ feet long bronze, commissioned in 1949 by the Arts Council for the Festival of Britain of 1951. Heralded as the 'People's Show' by Gerald Barry the Chairman of the Festival Committee, this exhibition optimistically embraced the arts and technology, looking towards the future with radiant Modernist structures like the Skylon and the Dome of Discovery, and included an abundance of public art projects. Along with Jacob Epstein, Moore had first choice of the festival sites, but the slow development of the area made it impossible to make a truly site-specific work and instead Moore focused on creating a sculpture that could be viewed in the round and in any location. Despite being specifically asked to create a family group, Moore felt that the occasion - more a time of national celebration than a time for musing about community life - called for something different and his Reclining Figure: Festival, 1951 would become one of his most important sculptures on this theme. In 1968 Moore confirmed this when he included it in a list of reclining figures which mark key moments in his oeuvre, stating, 'Certain of my works are more important to me than others, and I tend to look on them as keys to a particular period. Ones I can quickly pick out are the 1930 Reclining (Recumbent) Figure in Horton stone, in the Tate Gallery; the large Elmwood 1939 Reclining figure, now in the Detroit Museum (Institute of Arts); the 1951 Festival Reclining Figure…and my first large bronze two-piece Reclining figure (1959)' (3) For Reclining Figure: Festival, 1951 Moore initially created a sheet of preparatory sketches where ideas for the sculpture were worked out (Fig.2). He based two small maquettes on these ideas (the present work and Fig.3) and then created a subsequent larger working model (Fig.4). Moore then used this working model to produce a full-size plaster version (Fig.5) from which the final bronze sculpture was cast. Eventually, his full-size bronze cast was sited prominently in front of Edward Brian O'Rorke's Country Pavilion on London's South Bank. Situated centrally within this optimistic environment Moore's sculpture resonated well with what was described at the time as the Festival's 'determinedly modernist' bias' (4) becoming a visual symbol of the progressive and forward- looking rhetoric cultivated by the Festival. The cast on display at the Festival of Britain is now in the Scottish National Gallery of Modern Art. Two other casts are in the collections of the Arts Council of Great Britain and the Museum of Modern Art Paris. One of the reasons for Reclining Figure: Festival's, importance was that it was the first sculpture where space and form would become wholly dependent on, and inseparable from, one another. Moore explained, 'I had reached the stage where I wanted my sculpture to be truly three-dimensional. In my earliest use of holes in sculpture, the holes were features in themselves. Now the space and form are so naturally fused that they are one.' (5) All of the variations of this work have the feeling of having been drawn in the air, as the contours of the body rise and fall, edges and shapes join seamlessly, yet our understanding of the human form here is not only dependent on the moulded bronze but also the forms that it creates around it. If we compare this reclining figure with Moore's Recumbent Figure, 1938 (Fig.6) where the hole is used in isolated areas, one can see how the 'hole as space' has now opened up, moving fluidly through the sculpture and creating shapes which help the eye to understand and configure the human body as well as the environment that it inhabits. The notion of the sculpture having been 'drawn' is particularly pertinent to the present work, Small Maquette No.1 For Reclining Figure, 1950 which has a wonderfully incised and uneven surface as if it has just been lifted from the pages of one of Moore's sketchbooks. Indeed one can see a direct relationship between this sculpture's surface and one of the reclining figures (bottom right) in Moore's preparatory drawing, Study for Festival Reclining Figure, c.1950-1. (Fig.2). Here, we can see Moore drawing lines over the legs, enhancing the sense of rhythm as each one rises in an arc in an act of spontaneous mark making. In the present work this process is transferred to the sculpture, with Moore literally drawing into the surface, marking the tensions and internal movements of the human body as he goes. The technique of drawing is repeated in the final work, however, where the lines on this version appear more calculated or predetermined, in Small Maquette No.1 For Reclining Figure, 1950 they feel more intuitive and spontaneous, existing as lasting traces of the very visceral process of imagining the body through the medium of bronze. Whilst the human body has been considered on relatively abstract terms in this work, the overwhelming sense of rhythm, movement and vitality articulated reflects wonderfully that of the human body. Indeed, as Moore explained, 'Sculpture, for me, must have life in it, vitality. It must have a feeling for organic form, a certain pathos and warmth. Purely abstract sculpture seems to me to be an activity that would be better fulfilled in another art, such as architecture. That is why I have never been tempted to remain a purely abstract sculptor… A sculpture must have its own life. Rather than give the impression of a smaller object carved out of a bigger block, it should make the observer feel that what he is seeing contains within itself its own organic energy thrusting outwards - if a work of sculpture has its own life and form, it will be alive and expansive, seeming larger than the stone or wood from which it is carved. It should always give the impression, whether carved or modelled, of having grown organically, created by pressure from within.' (6) This sculpture was verified by The Henry Moore Foundation on 20 April 2015. 1 Kenneth Clark, quoted in Henry Moore, The Reclining Figure, Columbus Museum of Art (exhibition catalogue), 1984, p. 4 2 Ibid, p. 26 3 Henry Moore, quoted in J. Hedgecoe, Henry Moore, London, 1968, p.197 4 B.E. Conekin, "The autobiography of a nation": the 1951 Festival of Britain, Manchester, 2003, p. 51 5 Ibid, p.188 6 Henry Moore, quoted in Alan Wilkinson (ed.), Henry Moore, Writings and Conversations, Berkley & Los Angeles, 2002, p. 199).