Euston Road
More Categories
Rodrigo Moynihan
signed and dated lower right 'Moynihan 39'

oil on canvas
21 x 17 inches
55.8 x 45.6 cm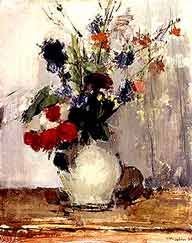 Provenance
Redfern Gallery, London
Alan Sainsbury, Esq.

Description
'I should like to paint naturally the most natural things in the world' Rodrigo Moynihan wrote in a sketch-book from the late 1930's. For Moynihan, uniquely among British painters of the time, this naturalness lay in the suggestive power of his tone and colour, the sense of tonal illusion his works conveyed. It gives to this still-life for example, painted just two years after he had finally abandoned his radical experiments with Objective Abstraction, a sumptuous, smouldering quality that owes much to his intuitive understanding of Goya, Manet and Whistler. At the same time the dashing, nervous quality of Moynihan's touch allows it to reflect very precisely the febrile spirit of the immediate pre-war period in which it was painted.