Works on Paper
More Categories
Pablo Picasso
Guitare et partition sur gueridon. Juan-Les-Pins
,
1920
signed
gouache on paper
10 1/2 x 8 1/4 inches
26.7 x 21 cm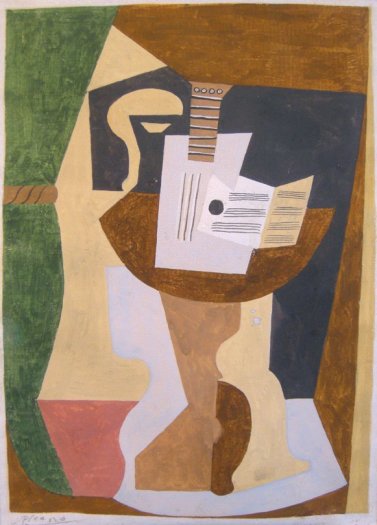 Provenance
Mrs Russel, New York
Galerie Beyeler, Basel, Switzerland
Private Collection, Sweden, purchased from the above in the 1960s
Exhibitions
Stockholm, Modern Museet Stockholm, Pablo Picasso, 15 Oct 1988- 8 Jan 1989, cat no.186, colour illus, p.82
Literature
C. Zervos, Pablo Picasso: Oeuvres de 1923 a 1925, vol IV, Paris, 1952, cat no.88
Description
In the summer of 1920, Picasso and his wife Olga Kokolova visited Juan-Les-Pins, where he painted the present painting. Jean Sutherland Boggs writes "Picasso must have been very happy at Juan-Les-Pins during the summer and early fall of 1920 to have made so many charming still lifes in gouache" Picasso and Things: The Still Lifes of Picasso, p.188 Picasso was born in 1881, Pablo Picasso became a prominent figure amongst the avant-garde artistic life in Barcelona, and made the first of his many visits to Paris in 1900. His early years are known as his 'Blue Period' due to the dominant blue key used to portray the tragedy and misery of poor Parisian life. He settled in Paris in 1904, and replaced the sad colours of his early years with a warmer palette consisting of fawns and pinks. During this 'Rose Period' he painted primarily actors, harlequins and scenes of circus life. Throughout his career Pablo Picasso frequently turned to the traditional genre of still-life paintings and from early 1919 he had been interested in the representation of the guitar, a theme which he continued to develop throughout the following year. Guitare et partition sur gueridon depicts simple objects painted in a synthetic Cubist style in marked contrast to the Neo-Classical works Picasso was painting during this period. At this time Picasso saw Cubism as "neither a seed nor a foetus, but an art dealing primarily with forms, and when a form is realised it is there to live its own life." ('Picasso Speaks' interview with Marius de Zayas, The Arts, New York, May 1923). In the present painting the objects are reduced to their most basic form, with the flattened planes giving no real sense of distance. Picasso also often enjoyed imitating the technique of collage which had featured his work from 1910 and each object in this still life is positioned to either overlap or adjoin its neighbour giving the impression of an overlaying of surfaces and shapes.