Works on Paper
More Categories
Michael Landy
H2NY Tinguely's Contraption, Nation
,
2006
signed, dated and titled in pencil verso
oilstick on paper
40 x 26 3/8 inches
101.5 x 67 cm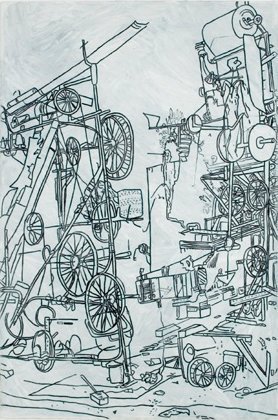 Exhibitions
New York, Alexander and Bonin, Michael Landy H2NY, 20 February - 31 March 2007, in association with Thomas Dane Gallery, London, illus b/w p15
Description
This is one of a series of drawings and paintings by Michael Landy on the subject of Jean Tinguely's self-destructing machine - Homage to New York. Tinguely's machine was constructed in the garden of the Museum of Modern Art over a period of three weeks in March 1960. It was set into motion for 27 minutes on March 17, 1960. The machine spasmed, shook, and burst into flames but failed to fully self-destruct, forcing firemen and museum guards to take action. Landy's fascination with Jean Tinguely's work dates back to Tinguely's retrospective at the Tate Gallery, London which he saw while still an art student in 1982. Between 2006 and 2007 Landy worked on drawings in charcoal, oil-stick, correction fluid, bleach, glue and ink, based on research he conducted at the Museum Tinguely, Basel and the Museum of Modern Art, New York. Over these two years he produced a total of 168 drawings. All of the drawings display Landy's meticulous draftsmanship but vary in their depiction of the 1960 event. In some paintings, Landy renders the minute details of Tinguely's machine with linear clarity. Others from the series are less precise and serve to capture the explosive chaos of the machine's break down. Landy's black and white palette ties his drawings to the original black and white photographs and archive video and lends drama to the scenes portrayed. Michael Landy's ambitious 2001 installation, Break Down was a systematic destruction of all his possessions in a former department store in London. In 2004, he created Semi-Detached, a full scale model of the front and back facades of his parents' house, shown at Tate Britain. His work has been included in numerous group shows since 1989, including the 1997 Sensation exhibition at the Royal Academy, London and Brilliant: New Art from Britain at the Walker Art Center, Minneapolis in 1995. In 2010 Landy returned to the theme of public destruction with his installation Art Bin at the South London Gallery in February-March 2010. Artist's, both famous and unknown were invited to deliver their unwanted artworks to a giant transparent skip to be destroyed. In 2008 Ridinghouse published Michael Landy: Everything Must Go!, Landy's first monograph, which brings together over 20 years of the artist's work for the first time. In the same year Landy was elected a member of the Royal Academy. In May 2013, Landy's exhibition of large-scale kinetic sculptures, Saints Alive, opened at the National Gallery following his two year tenure as an Associate Artist.