Works on Paper
More Categories
Edward Burra
stamped with signature 'E.J. Burra' (lower right)
pencil, watercolour and gouache on paper
40 1/2 x 28 1/2 inches
102.9 x 72.4 cm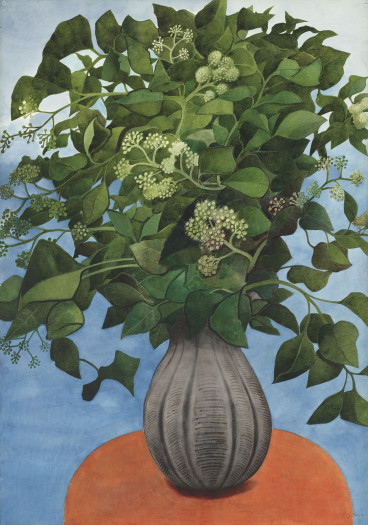 Provenance
with Lefevre Gallery, London.
Neil ('Bunny') Roger, London.
with Lefevre Gallery, London, where purchased by the present owners in February 2000.
Description
'I seem to be having quite a little success with flower paintings and my little success has not gone to my head as they say in the song. I suppose they don't frighten people.' - Edward Burra Elderberries was painted between 1952 and 1959, when Burra executed many astonishingly lively paintings of flowers. The painting has always been referred to as Elderberries, even though the subject more closely resembles Ivy. Elderberries was bought by a notable British collector, the aesthete and dandy Neil ('Bunny') Roger, who was part of Burra's 'set' in the 1930s. Bunny and his brothers, Alan and Sandy, lived and collected together: Sandy bought an early Burra, The Pointing Finger (1933), and Bunny, both Elderberries and another flower piece, Dahlias and Daisies. We are very grateful to Professor Jane Stevenson for her assistance in preparing this catalogue entry.