Works on Paper
More Categories
David Jones
oil and pencil on board
19 3/4 x 23 1/2 inches
50.2 x 59.7 cm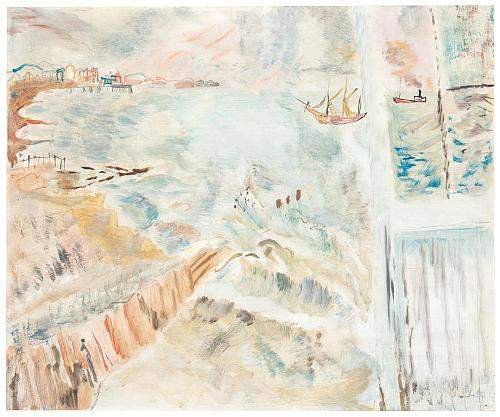 Provenance
Sir Michael & Lady Sadler
A gift from the above to Ackworth School, Pontefract, October 1936.
Exhibitions
London, Arts Council of Great Britain, The Artist and the Sea, 1953, cat no 56
Description
This painting, is one of a number of versions, by Jones depicting the view from the verandah of his parents' rented cottage at Portslade, near Hove. This forms one of a series of sea paintings, which have very similar compositions and number around a dozen in total. Invariably these works feature the iron supports of the balcony at one side, which foreground and frame a large expanse of sea behind. Just as Jones would often paint views through a window, these peripheral glimpses of genteel interiors contrast with the untamed mass of water beyond. As in paintings such as Out Tide, (coll. Manchester City Art Gallery) and Rough Sea, painted in the same year, Morning Sea demonstrates Jones' fascination with the dynamic nature of the coast. Situated at such close quarters to the landscape, Jones described the sensation of being 'at high tide literally almost like a ship in the sea... one felt very much surrounded by water'. Between 1929 and 1932, Jones was at his most prolific, and it is the period in which the artist himself believed that his paintings had really come together. The paintings from this time are executed in a free and gestural hand, and appear more spontaneous than later more densely worked images. Here Jones uses oil paint, subtly over laying the colours as lightly and fluidly as he would watercolour. The range of marks used for the waves are wonderfully descriptive, and their lively quality reflect the pleasure and inspiration Jones drew from living by the water.