1900-1909
More Categories
Walter Richard Sickert
Nude Before a Mirror
,
1906
oil on canvas
15 x 12 inches
38.1 x 30.5 cm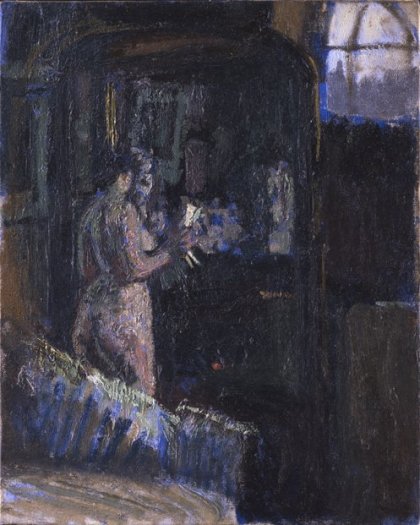 Provenance
Leicester Galleries, London
Robert Haines, Australia
John Cristopherson
Thence by descent
Belgrave Gallery, London
Private Collection, UK
Literature
Wendy Baron, Sickert: Paintings and Drawings, Yale University Press, 2006, cat no.270.3, illus colour p323
Description
In Nude before Mirror. Fitzroy Street, Sickert explored questions of handling, of composition and of subject-matter. As such, it is an important stepping-stone in the development of Sickert's intimate figure paintings during the years from 1905 to 1914, popularly known as his 'Camden Town Period.' Sickert did not begin to paint the intimate figure subjects for which he is best known until 1903, when he was forty-three years old. In Dieppe, where he had lived since the autumn of 1898, he had concentrated almost exclusively on painting its narrow streets, its churches, its quayside and its seafront. On visits to Venice in 1900 and 1901 he had painted its great monuments as well as its hidden backwaters. However, on a long visit to Venice from 1903-4, he turned away from its architecture and its canals to produce a sustained sequence of paintings featuring prostitute models within the simple setting of his rented rooms furnished with a washstand, a couch with curved arms and a couple of single wooden bedsteads. As he gained confidence with the integration of single figures and their settings he began to tackle two-figure subjects, sometimes showing his models with a friend and occasionally showing them nude. Thus by 1905, when he returned to live in London after six years spent abroad, his repertoire included subjects suited to the grey light of the dingy lodging-houses in Fitzrovia and Camden Town where he habitually rented studios. Nude before Mirror was almost certainly painted in 1906 at 8 Fitzroy Street where Sickert rented a studio from 1905-7. The selection of typical Fitzroy Street props includes the gilt-framed pictures on the wall and the sofa covered in a green and white striped fabric. The painting belongs to an exciting series in which Sickert explored the extra dimensions - compositional, spatial and psychological - afforded by portraying a nude within a furnished interior seen both as a 'real' and as a reflected image. The nude stands reading a newspaper in three-quarter back view before a huge cheval-glass. Part of her upper body and face are repeated as a reflection. This cheval-glass features in several contemporary paintings, the best known of which is The Studio: The Painting of a Nude (Private Collection, USA). In The Studio, the artist (represented by an arm, holding a brush, which sweeps diagonally across the canvas) is painting the front view of a nude whose back is seen reflected in the glass. As the title implies, the nude in this painting is frankly acknowledged as Sickert's model. It is otherwise in Nude before Mirror: Fitzroy Street. Here the nude is represented as if caught unawares, occupied with her own thoughts and actions. This fact in itself distinguishes Nude before Mirror: Fitzroy Street from the rest of the sequence, and anticipates Sickert's exhortation to his British contemporaries to strip the model (whom he christened 'Tilly Pullen') of her borrowed finery: … tell her to put her own things on again. Let her leave the studio and climb the first dirty little staircase in the first shabby little house. Tilly Pullen becomes interesting at once. She is in surroundings that mean something. She becomes stuff for a picture. (The New Age, 16 June 1910, 'The Study of Drawing') The casual naturalism of Sickert's approach to subject and composition was new to British painting in 1906. Sickert's nude is neither gross nor beautiful, its setting neither squalid nor grand. The painting has no story, as allegory or as contemporary documentary reportage. Figure and interior are treated with equal emphasis. This is not to say that the painting was uncontrived. Such lack of affect, such absence of pretension, were hard-won. Sickert had spent two years experimenting with the mise-en-scène of his figure pictures, trying to break away from the simple rectilinear geometry of a frieze of figures in a shallow space. In 1905 he had given a strong diagonal emphasis to many of his pictures by the alignment of a bed or couch. However, the picture space remained shallow and constricted. The use of a mirror image in 1906 gave him more sophisticated options. Not only was the interior space deepened, but through the reflection a formal counterpoint of shapes and spatial planes was developed. In Nude before Mirror, the corner of the couch, placed at a slight angle to the picture plane, acts as an additional device to set the figure within the room; the reflection extends the space beyond almost to infinity. An additional innovation was Sickert's inclusion of a window in the upper right corner through which we see a blue-grey North London skyline. In contemporary paintings done in his rooms at Mornington Crescent showing a nude on - or by - a bed in front of a chest-of-drawers set before a window covered by a slatted blind, Sickert experimented with the effects of subdued filtered light. In Nude before Mirror there is no blind and the window is shown as the source of daylight falling obliquely across the picture towards the couch in the left foreground. Sickert conveyed this intrusion of daylight by dissolving the forms in its path in a scattering of dabs and flecks of broken colour, overlaid with dappled marks of vibrant blue. The use of broken, coloured marks to portray light, places Nude before Mirror among Sickert's first experiments with the Impressionist-derived handling developed by his friends and colleagues in the Fitzroy Street and Camden Town Groups, notably Lucien Pissarro and Spencer Gore. During the following summer of 1907, in two tender paintings of his young model, Little Rachel (Tate, London and Fitzwilliam Museum, Cambridge), Sickert was to open the blind to reveal an extensive landscape of Camden Town beyond. Nude before Mirror. Fitzroy Street, as the earliest painting by Sickert to afford a proper sense of a world outside, anticipates this development. © Wendy Baron.