1900-1909
More Categories
Spencer Frederick Gore
Girl Acrobats, The Alhambra
,
c1907
gouache and pastel on board
9 x 7 1/2 inches
22.9 x 19.1 cm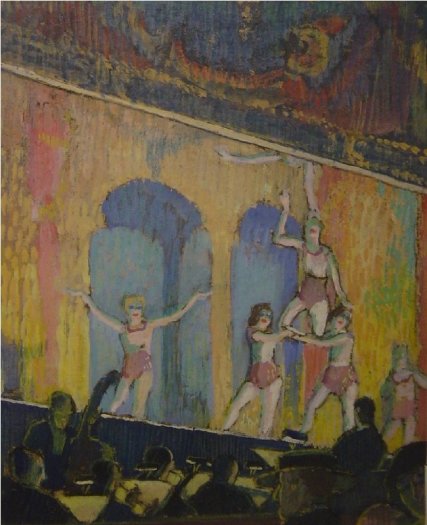 Provenance
Redfern Gallery, London
Rex de C. Nan Kivell, purchased 3 June 1940
Redfern Gallery, London
Mrs Lawrence Harvey, purchased 25 August 1958
Private Collection, UK
Exhibitions
Arts Council of Great Britain, Spencer Frederick Gore 1878-1914, 1955, cat no.49, illus b/w pl.7
Southampton City Art Gallery, Camden Town Group, 16 June - 29 July 1951, cat no.71
Description
In 1906 Gore began his series of studies of music-hall and ballet subjects at the Old Bedford and the Alhambra, paintings which at their best rank with the loveliest in this genre. Until 1911 Gore devoted his paintings of ballet to the Alhambra, recording in drawings and paintings at least nine of the collaborations of the choreographer Curti, and later Elyse Clerc, with Byng the composer. The attraction of hte Alhambra included the decoration of the theatre itself and the big stage allowing spectacular scenic displays. The Alhambra boasted a succession of notable ballerinas from across Europe and a great variety of character, acrobatic and eccentric dances by whom Gore was greatly amused. The famous names of the period made no appearance in Gore's pictures and only in one painting did he concentrate on the audience alone, unlike Sickert whose eyes, at this period, were turned to the boys in the gallery or the girls in the stalls. Gore's preference for including both stage and audience led to pictures of emphatic design and increasingly startling contrasts of colour. In this painting he emphasises the unusual colours of the stage lighting and contrasts them with the dullness of the auditorium.