1920-1929
More Categories
David Jones
Town Gardens, Brockley
,
1926
signed and dated '26 lower left, signed and dated '27 lower right, inscribed verso 'Rock Garden £12.0.0.'
pencil and watercolour on paper
21 x 15 inches
55.8 x 38.1 cm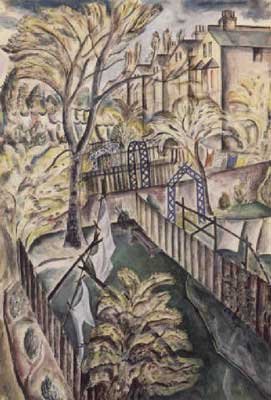 Description
David Jones first exhibited with Eric Gill at St.George's Gallery in 1927, subsequently showing with the 7 & 5 Society from 1928 to 1933, at the Goupil Gallery in 1929 and at leading London galleries, His work was exhibited at the Venice Biennale in 1951, and at the Tate Gallery 1954-5 and 1981. He is represented in many public collections including the Tate Gallery and he was created CBE in 1955 and CH in 1974. His wood engravings, influenced by Gill, include illustrations for The Chester Play of the Deluge, 1927, and other publications for the Golden Cockerel Press, whilst his own writings include In Parenthesis, 1937, for which he was awarded the Hawthornden Prize, and The Anathemata, 1952. His art is essentially religious, expressing the spiritual character of landscape and figures. He evolved an idiosyncratic, elegant and complex visual language using areas of transparent watercolour and many fine lines to build up a wealth of detail and allusion. In his intricate subject pictures he wove together mythological and Christian iconography in order to express his spiritual vision.