1930-1939
More Categories
Alfred Wallis
Ship in a Religious Frame
,
c1930s
oil & pencil on paper in original frame
5 1/4 x 5 inches
13.2 x 15.1 cm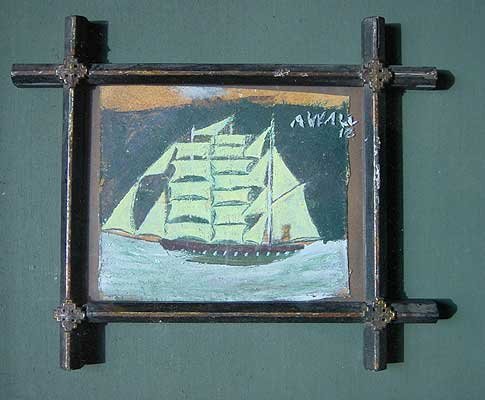 Provenance
Mrs John Howard
Private collection, UK

Exhibitions
Crane Kalman Gallery, London, January 1969
Waddington Galleries, London

Description
The 'discovery' of an almost illiterate retired mariner turned painter by Ben Nicholson and Christopher Wood in St. Ives in 1928 is a landmark event in the history of modern art in Britain. Wallis' curious combination of a lifetime's maritime experience and an entirely untutored approach to painting, produced work of such freshness that his example immediately began to influence his younger contemporaries, and continues to send ripples down to the present day. Painted on rough pieces of found materials, often card from the packaging of household goods, Wallis' work always captures the experience of the event without the extraneous details that a 'real' artist would include. The work carries with it the joy and vivacity seen in children's painting, but its subject matter is far from the nursery. The hard and perilous life of the nineteenth century mariner is brought vividly to life in his paintings, a life in which, common to the then remote Cornish world, fundamentalist religion was the rock to which hope was anchored. Wallis' own presentation of his work was rudimentary and the frame here seen, more commonly used to surround 'improving' biblical texts, is somehow curiously appropriate to this lost age.