1930-1939
More Categories
Alfred Wallis
Three Boats and a Lighthouse
,
c1930s
oil on card laid on board
12 x 15 inches
30.5 x 38.1 cm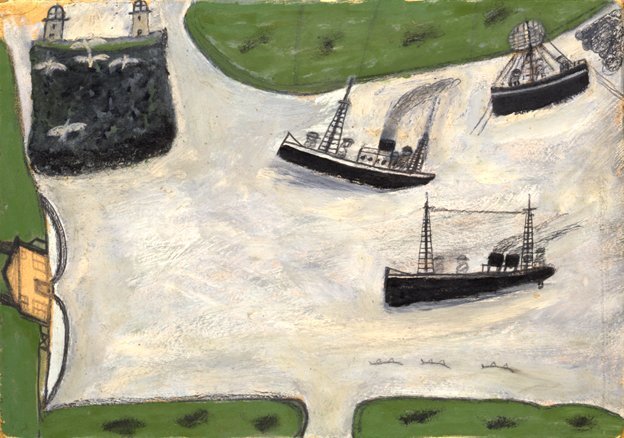 Provenance
James Ede
Mrs Boyd Alexander (née Frederica Emma Graham)
Thence by descent
Description
Wallis, a retired fisherman, took up painting at the age of seventy 'for company' after the death of his wife. Previously untrained as an artist, he began to paint six days a week, using pencil and household oil paint on pieces of card or discarded wood, as he could not afford to buy canvases. His paintings do not follow any traditional rules of scale or perspective and are often labelled 'primitive' or 'naïve', however, a chance meeting with Ben Nicholson and Christopher Wood during August in 1928 resulted in Wallis becoming one of the most influential 20th Century British artists. Nicholson wrote that, as he came up from Porthmeor Beach with Wood, they, 'passed an open door in Back Road West and through it saw some painting of ships and houses on odd pieces of paper and cardboard nailed up all over the wall, with particularly large nails through the smallest ones. We knocked on the door and inside found Wallis, and the paintings we got from him were the first he made' (quoted in M. Gale, Alfred Wallis, London, 1998, p. 22). Wallis had been born in Devonport near Plymouth and all his life lived within fishing communities. The pictures that he painted reflect his firsthand experiences of this life, and the sea, fishing boats, lighthouses and coastal landscape became his main subject matter. Three Boats and a Lighthouse with its flattened perspective and densely worked areas demonstrates Wallis's unique vision that immediately captivated both Nicholson and Wood and continues to inspire and influence artists today.