1940-1949
More Categories
William Turnbull
numbered 3/4
bronze
20 1/2 x 33 1/4 x 8 3/4 inches
52 x 84.5 x 22.2 cm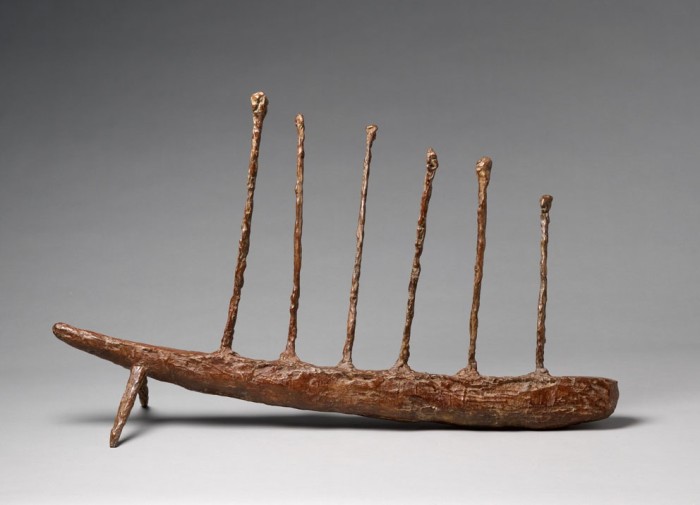 Provenance
Estate of the Artist
Exhibitions
London, Tate Gallery, William Turnbull - Sculpture and Painting, 1973, cat no.4, illus b/w, another cast.
London, Serpentine Gallery, Bronze Idols and Untitled Paintings, 15 November 1995 - 7 January 1996, cat no. 4, illus b/w, another cast.
West Yorkshire, Yorkshire Sculpture Park, William Turnbull Retrospective 1946-2003, 14 May - 9 October 2005, cat no. 10, illus, another cast.
Literature
Amanda A. Davidson, The Sculpture of William Turnbull, The Henry Moore Foundation in association with Lund Humphries, Aldershot, 2005, cat no.14, illus  b/w p19
Exhibition catalogue, William Turnbull at Chatsworth, 10 March-30 June 2013, p.25, fig. 8, illus.
Description
Conceived whilst William Turnbull was living in Paris, the present work is a significant example of Turnbull's early sculpture. It is also a notable example of British post-war sculpture. The composition of the piece, with vertical lines emanating from a horizontal base is representative of Turnbull's work of the late 1940s and expresses his concern with exploring movement through stasis. His inspiration came from, both, the skewed perspective of lying in the grass on a hot day and seeing insects from close up and from Giacometti's Disagreeable Object of 1931. `From ground level insects look quite different: this work is ` big, odd, a bit like a dinosaur'. Heavy Insect drags its bulk along and is topped with a line of surprisingly long, aggressive spines. Patrick Elliott suggests that `Gregor Samsa, the man-insect ``hero'' of Metamorphosis, would be at home in this world' (A.A.Davidson, The Sculpture of William Turnbull, Lund Humphries, Much Hadam, p. 19). The sculpture can be seen as spotlighting Turnbull's interest in the writings of Franz Kafka, and particularly (whom Patrick Elliott notes above) the character Gregor Samsa from 'The Metamorphosis', who turns into an insect. Turnbull's interest in the process of something changing, or being on the verge of change, reveals his interest in Surrealism. One example of Heavy Insect, 1949, resides in the collection of the Scottish National Galleries. The others remain in private collections.