John Tunnard
signed lower left, also signed and titled verso
oil on masonite
23 x 29 inches
60.9 x 76.1 cm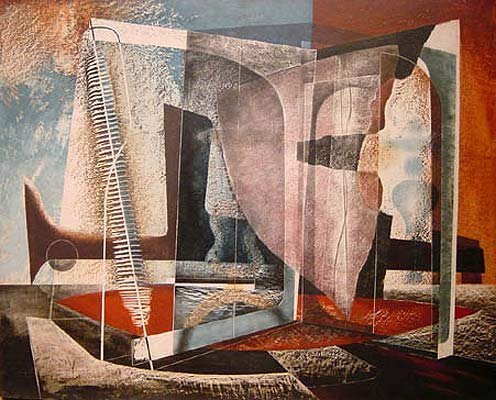 Provenance
Moulton Gallery, London
Chauncey Waddell, New York
Betty J Stebman, New York
Thence by descent to the present owner
Exhibitions
McRoberts & Tunnard Gallery, London, John Tunnard, 1959, cat.no.15
Literature
A.Peat & B.Whitton, John Tunnard, His Life and Work, 1997, cat.no.576, p.181, p.112 (illus)
Biography
Painter of abstracts, landscapes and marines in gouaches and oils; textile designer. Son of J.C.Tunnard, he studied design at the RCA 1919-1923, and worked as a textile designer 1923-29.
In 1926 he married Mary Robertson and in 1929 he started to paint, visiting Cornwall in 1930-2 and moving there in 1933. He exhibited first in 1931 at the RA (becoming ARA in 1967), and at the LG where he exhibited regularly and became a member in 1934.
His first solo exhibition was at the Redfern Gallery, London, in 1933, and he continued to exhibit in London galleries including the Guggenheim Jeune and McRoberts & Tunnard Ltd. His work was included in various Surrealist exhibitions in the later 1930s and thereafter in many shows of contemporary British art and in the 1940s his work began to appear in New York.
He also exhibited in Europe and his work is included in public collections. He taught design at the Central School, London, and from 1948 at the Penzance School of Art. His interest in jazz and in natural history was reflected in his work which early in his career was romantic Cornish landscapes executed in a vigorous rhythmic manner.
During the 1930s his work was influenced by abstraction, constructivism and surrealism, and in particular the examples of Miro and Klee. He used imaginative forms set in an illusory space, and from the 1940s these forms reflected an interest in technology and, in the 1960s, the exploration of space. His work combined modernity, technological forms and the forms of the natural world.
Tunnard had many contacts in the art world, Julian Trevelyan was a particular friend, but letters from Ivon Hitchens, Henry Moore and others, and comments in his own record books show that he was keen to discuss artistic matters. However, he was not a joiner of groups if this meant restriction on his freedom as an artist, and refused to join the Penwith Society formed at St Ives in 1949 by Ben Nicholson and Peter Lanyon. Tunnard has sometimes been called a surrealist and was exhibited several times with well-known surrealists, but this was never a term which strict surrealists applied to him, nor one which he applied to himself, although he did include 'surrealist' in the title of at least one painting.