1940-1949
More Categories
John Piper
Three Portland Stones
,
1949
ink, pastel, charcoal and watercolour
19 3/4 x 15 inches
50.2 x 38.1 cm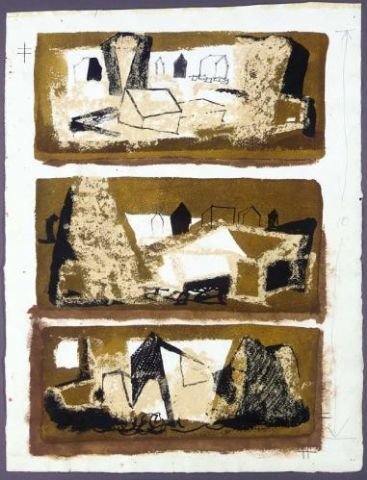 Provenance
Hans and Elsbeth Juda, London
Mr and Mrs Kreitman
Description
John Piper first visited Portland in 1929; later, staying with his wife Myfanwy in nearby Abbotsbury in 1934, they walked together the 16 mile Chesil Beach. He returned intermittently throughout his career, making small studies, collages, large scale oils in the late forties and early fifties, and in 1958 collaborated with John Read on making a film about the island. Piper's fascination with Portland stemmed both from the desolate dramatic quality of the landscape and its rich history. Inextricably linked with quarrying, shipping, the navy and fishing, Portland stone has been used over the centuries in important buildings from Wren's St Paul's Cathedral (1708) to modern buildings such as the UN Headquarters, New York (1937) and Bush House, London (1923). The land itself is essentially a mass of stone, littered with rocks and deserted quarries, battered by the wind and barren of vegetation. This poetic connection, between man and the land, past and present, clearly resonated with Piper's Neo Romantic sensibility and his faith. Almost entirely cut loose from the mainland, the island has a sense of 'in-betweeness', a feeling Piper evokes in his art. Squared off quarried stones, appear to stand like buildings, and buildings appear strewn like discarded rocks. These forms will have appealed to the eye of an abstractionist, as elements to be transformed and manipulated in his compositions. The rhythm and areas of tone in this study subtly echo Piper's abstract oils form the 1930's, and illustrate the artists need to start his work from a direct experience of the land. In 1954, Piper made a collage very closely related to this earlier triple study, (Colin St John Wilson, John Piper, Faber and Faber, plate 3). Here the image is developed anew, the shadows from the sides of buildings stand as figures in their own right, or merge together into new geometric forms.