1950-1959
More Categories
William Scott
signed lower right and inscribed verso no.8, William Scott Archive no.91
oil on canvas
39 x 49 inches
101.4 x 126.8 cm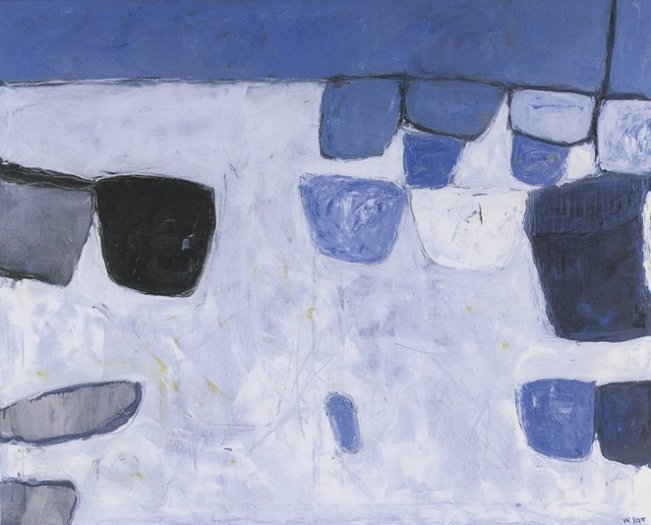 Provenance
The Artist
Martha Jackson, New York
Private Collection, USA
Exhibitions
Martha Jackson Gallery, New York, William Scott,
25th September - 20th October, 1962, cat no.8, illus.
Literature
Alan Bowness, William Scott: Paintings, London 1964, cat no.92, pl.92.
Description
Blue and White marks the next stage of Scott's development of the still life theme from Blue Still Life No.2. Whilst in earlier paintings the artist was still retaining the vestiges of recognisable form in the objects which filled the composition, in the present work, we see those signifiers of function starting to fall away. The table-top has become less recognisable and the objects themselves, whilst still crowded together in carefully placed groups, are becoming pure painterly elements. It is this ability however which gives Scott's work of this period its enormously attractive aspects, combining the figurative and abstract with such apparent ease, allowing the viewer to keep or forget the associations of the objects and their settings as one wishes. Whilst the placement of the elements follows the lead seen in Blue Still Life No.2, it is noticeable how the rigidity of the composition is beginning to disappear, the lines bend. The undulation of the composition becomes very much one with the organic qualities of the objects, which have now almost completely lost any recognisable features, and float gently across the picture surface, here drifting gently to the outer edges, adding a sense that what we see is only a snapshot of some larger image.