1950-1959
More Categories
Patrick Heron
Reclining Nude on Iron Bed
,
1951
signed, also dated and titled on stretcher
oil on canvas
18 x 36 inches
45.6 x 91.3 cm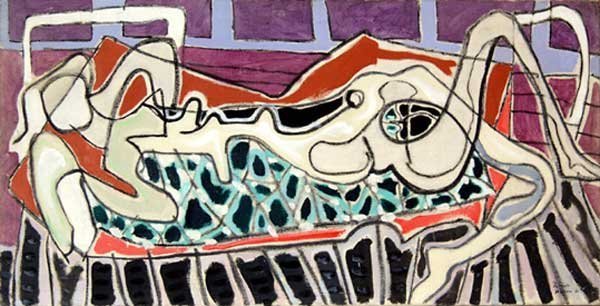 Provenance
Patrick Heron
Howard Bliss
Exhibitions
London, Redfern Gallery, Patrick Heron, 30 October-24 November 1951, cat no.7
London, Tate Gallery, Seventeen Collectors, 1952
London, Waddington Galleries, Patrick Heron: Paintings 1950-55 and 1970-77,
6 February-3 March 1979; touring to Oriel, Cardiff, 5-28 April 1979, cat no.5, illus
Description
In 1946, Heron had seen the large exhibition of recent works by Georges Braque held at the Tate Gallery and was enormously impressed by the elder painter's ability to create space and depth with planes of pure colour, and later that year he wrote a long article on Braque for The New English Weekly. Having visited Braque in France in 1949 and looked closely at Matisse, Derain and Vlaminck, Heron's work of the late 1940's and early 1950's has a very strong French flavour, particularly in its use of colour. The use of everyday kitchen objects as subject matter was common currency in British art at the time, something that is especially true of the work of Heron's close friend William Scott, but whereas Scott's interiors of the early 1950's tend toward a darker tonality with a strong emphasis on the paint surface, Heron's work, as here, frequently uses flat areas of bright colour and his distinctive network of black outlines to define the forms. This closeness with Scott's work may be in part, as Heron himself acknowledged, due to the fact that few painters of their generation and outlook had such close experience of the French masters. By use of these outlines, Braque, Matisse and Picasso had endeavoured to organize their subjects into an unmistakably flattened picture plane where spatial recession was created by colour and thus, in his adoption of this technique, we are able to retrospectively see how Heron was moving towards what he described as non-figurative abstraction, seen most fully in the 'garden' and 'stripe' paintings of 1956-57. The gradual process by which this was achieved is clearly seen in Heron's own writings of the period, especially in the introduction to the 1953 Hanover Gallery exhibition Space in Colour. Here he argued for the painter's gift being the ability to combine the illusionism of space and form, created by colour and line, with the physical sensation of the two-dimensional canvas and thus create a pictorial world in which familiar objects are imbued with a life and existence of their own. The present painting belongs to a group of works from 1950-53 which take the figure as their subject, including a small body of portraits, the best known being those of Herbert Read and T.S.Eliot (both collection National Portrait Gallery, London). The models for these paintings are all female, and are often taken from the nude. The suggestion of a balcony beyond the figure indicates that the setting for this painting is the largest room at 3, St.Andrew's Street in St.Ives, a cottage right on the harbour wall, which Heron and his family rented each summer from 1947 until 1955, and it appears in a number of important works of the period. The reference to Braque's major series of Atelier paintings is clear, although here, rather than the broad sweep of the interior seen in some of these paintings, Heron closes right in on the figure, presenting it in an almost sculptural format, raised up on the plinth of the red lounger. The full length reclining nude is an unusual format for Heron, and the parallels with sculpture are perhaps furthered by the paring down to essential details in a way that bears comparison with the contemporary work of Henry Moore.