1950-1959
More Categories
John Piper
Variation Poussin Dancers
,
1952
oil on board
5 x 7 inches
15.2 x 20.3 cm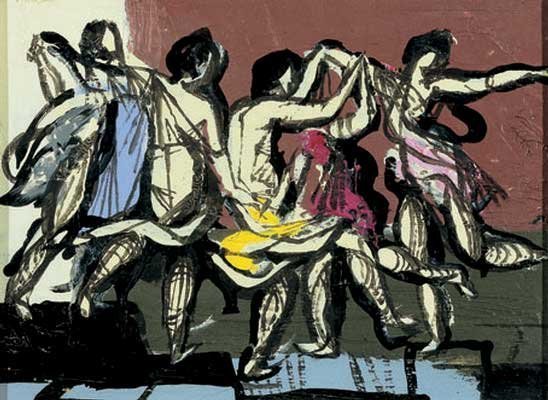 Provenance
Leicester Galleries, London
Private collection, UK
Literature
S. John Woods, John Piper - Paintings Drawings and Theatre Designs, Faber and Faber, London, 1955, plate 200
Anthony West, John Piper, Secker and Warburg, London, 1979, cat no. 133 plates 96 & 133
Description
Although Piper is most closely associated with architectural subjects, the human figure appears in his work throughout his career. The sources for such works may be, as here, an Old Master being seen through fresh eyes, or found in the series of images he produced to illustrate masterpieces of Indian love poetry, but in each case he is able to infuse the subject with his own distinctive voice. The sense of wild revelry inherent in the subject clearly appealed to Piper, and thus forms part of his deep knowledge of, and respect for, ancient lore, but he is able to pare down the composition to its essentially dithyrambic base elements, using a free black outline to give movement to the figures, and splashes of vivid colour to wind the eye of the viewer into the web of their entwining limbs. See: Nicolas Poussin, 'A Bacchanalian Revel before a Term', 1632-3. London, The National Gallery.