1960-1969
More Categories
Frank Auerbach
Head of Paula Eyles
,
1969
oil on canvas
27 1/2 x 24 inches
69.8 x 61 cm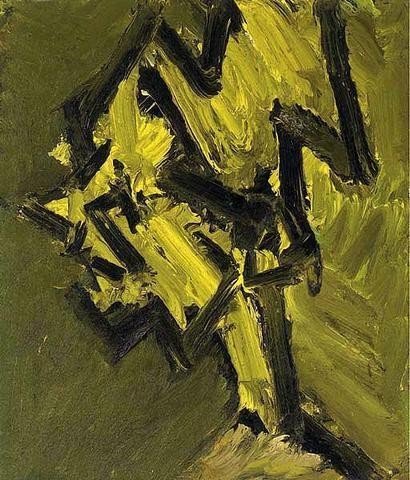 Provenance
with Marlborough Fine Art, London
Private Collection
Exhibitions
London, Marlborough Fine Art, Frank Auerbach, January 1971, cat no.21

Paddington, Australia, Villiers, Frank Auerbach, April 1972, cat no.6

Milan, Galleria Bergamini, Frank Auerbach, October 1973, cat no.9, illus colour

London, Marlborough Fine Art, Frank Auerbach, May 1976, cat no.18

London, Hayward Gallery, Frank Auerbach, 4 May - 2 July 1978, cat no.86 illus b/w, touring to:
Edinburgh, Fruitmarket Gallery, 15 July - 12 August 1978
Literature
Robert Hughes, Frank Auerbach, Thames and Hudson, London 1990, p.169, cat.no.130 illus b/w
William Feaver, Frank Auerbach Catalogue Raisonné, Rizzoli, New York, cat no.274, illus colour
Description
Painted in 1969 this painting can be compared to another of the same year, Head of Paul Eyles (collection of Ronnie and Vidal Sassoon) which was exhibited at the Royal Academy, London in 2001. Isabel Carlisle comments on Auerbach's series of portraits, 'The profound respect for human emotions as shown by the old masters is the bedrock of Auerbach's art. As Auerbach paints only friends - friends who have dedicated a considerable portion of their lives to his art - their faces become familiar to the viewer with studied looking. However, whilest he is trying for a likeness, the work may not always be immediately accepted as a replica; he has taken on almost no portrait commissions. Rather the aim is to celebrate life through the energy specific to all individuals through their changing moods and to fuse those energies with his own furious energy during the painting's execution. Auerbach qualifies this by saying, 'The energy of the execution may first strike the viewer, but it is in pursuit of a geometry of an exact expression'. 'From the early 1970s, while still making space with colour, Auerbach has used an armature of thick black lines to pin down his sitters at the last moment. These may delineate the outer edges of the person, but are frequently used for the eyes, nose and mouth, the direction of the arms or the tilt of the chin. Applied wet on wet, black brush marks sink into the already marbled viscosity of the paint beneath, dragging colours into them or displacing pigment to either side. They give the work an authority of finality and trap its energy in a way that reasserts the solid core within Auerbach's expressionistic delight in paint. In this way Auerbach's people are honoured with a tough integrity (Exhbition catalogue, Frank Auerbach Paintings and Drawings 1954-2001, Royal Academy, 2001, p.62).