1970-1979
More Categories
Alan Davie
Phantom in the Room No. 8
,
1971
signed and inscribed verso 'Alan Davie 71, Phantom in the room No.8'
oil on canvas
59 1/2 x 71 1/4 inches
150.9 x 181.1 cm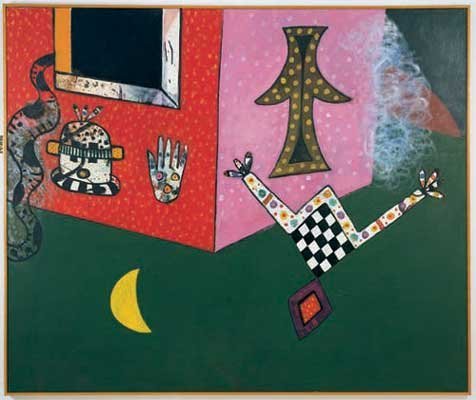 Provenance
Private collection, USA

Exhibitions
Gimpel and Hanover Galerie, Zurich 1971, Alan Davie, cat no.16, illustrated

Literature
Douglas Hall and Michael Tucker, Alan Davie, Lund Humphries, London, 1992,cat no.649,
pp.180-181 illustrated

Description
Davie's abstract painting has always been concerned with a complex range of imagery: secret emblems, hieroglyphics, abstract effigies and totem figures, suggestive of sacrifice, martyrdom, ritual, the erotic, birth and death. In his work of the 1950s and 60s he painted with a richness of colour, an effect of his training in Scotland, and on a massive scale using bold, expressive painterly techniques that derive from his early experience of American Abstract Expressionism. Davie first saw, and recognised the greatness of, Jackson Pollock's painting as early as 1948 when visiting Peggy Guggenheim's collection in Venice. In 1971, however, in a painting entitled Transformation of A.D. some highly significant changes began to take place both in the composition of his pictures and the way in which they were painted. These are very evident also in Phantom in Room No 8 of the same year; the sources of his imagery here remain as rich and varied as ever, as does his use of colour, but they are contained within much more clearly structured settings. Walls, doors and windows are used to create an enclosed universe in which the signs and symbols offered to the spectator to 'read' are used much more sparingly and painted in a tighter, more contoured way. Viewed in retrospect, Phantom in Room No 8 is one of a group of works that marks the beginning of the remarkable late style that Davie has continued to pursue with enormous vigour right into his 80s, helping to confirm his reputation as one of the major figures of British painting in the second half of the 20th C.